If you've put a lot of effort into being in shape but still want to lose fat, you might be worried that you'll lose muscle at the same time in the process. You can stop this by adhering to a few dietary and exercise rules that can assist you in getting the outcomes you want. To maximize fat loss and muscle preservation, you must approach weight loss healthily and productively.
Thankfully, eating to gain muscle isn't as difficult as it might appear. You can easily establish a bodybuilding diet plan that will help you develop stronger muscles and shed extra fat with the aid of a few straightforward instructions. You will find a 7-day food plan in this article to help you get started as well as an explanation of the fundamentals of muscle-building nutrition.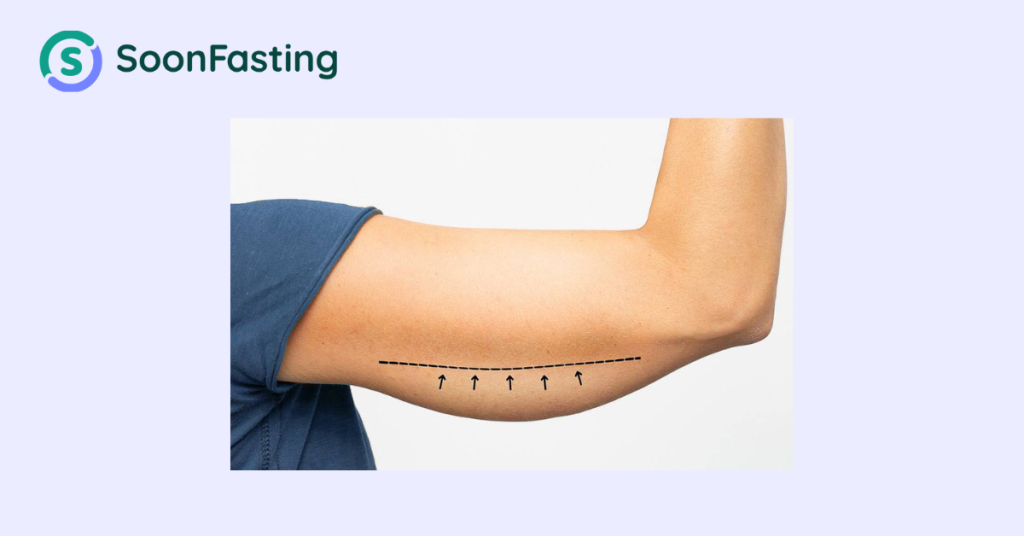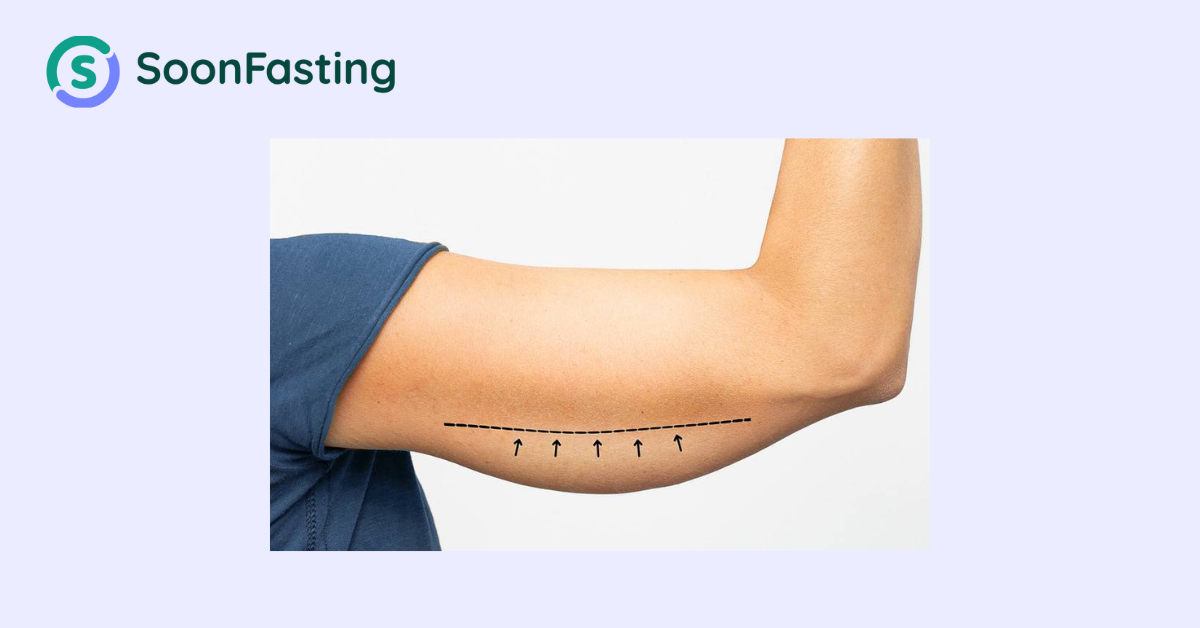 Basics of Muscle Building
Looking and feeling good has never been more crucial than it is now, especially in a world full of likes and following. In order to take advantage of Instagram's influence, many fitness enthusiasts around the world, particularly males, strive to look their best in both their professional and personal lives. One of the essential factors in achieving this goal is the growth of muscles. In fact, building muscle isn't so difficult, you simply need to know how to do it correctly. Let's learn the following three basic principles that help muscles develop significantly.
Exercise
It may sound strange, but the key to growing muscle is to injure the muscle fibers you already have. Weightlifting should be part of your training regimen because it is the most effective method for achieving this goal, along with full-body workouts of complex movements.
Sleep
It turns out that when you're at home resting, you really gain more muscle. The recovery process after a challenging workout is aided by sleep, which is essential for strength training. Your body creates its own muscle-building hormones as you sleep, improving the blood supply to your muscles and healing the tissue damaged from working out. This helps to support muscle repair and new growth.
Nutrition
The foods you eat will be extremely important to your success in developing muscle. To build new muscle, you must first ensure that you have a calorie excess accessible. You might get stronger if you only eat the number of calories necessary to keep your lean muscle mass at its current level, but there won't be enough extra energy to build new muscle fiber. Since protein makes up a big portion of muscles, they are dynamic and constantly being torn down and regenerated, just like the majority of bodily components. Your body must produce more protein from muscle than it consumes in order to develop muscle.
What to Eat for Muscle Building
If you want to avoid muscle loss, you should include the following foods in your diet to notice the benefits. These things consist of:
Protein
As it has been mentioned above, muscle growth requires protein. For the desired outcomes, you should make sure you consume enough protein in your diet. Sirloin steak, ground beef, hog tenderloin, deer, chicken breast, fish, salmon, tilapia, and cod are all good sources of protein.
Whey Protein Powder
Whey protein powder is an easy choice if you're seeking for a quick and highly effective source of protein. The majority of powders also readily dissolve in milk or water and can be added to smoothies.
Whole Grains
You should eat whole grains, such as those found in bread, cereal, crackers, oats, quinoa, popcorn, and rice, as part of your diet if you want to gain muscle. As well as helping to sate hunger, whole grains are rich in the micronutrients the body needs for muscle development and maintenance.
Dairy Products
Calcium, which is essential for healthy bones and muscles, is present in large quantities in dairy products. For best results, you can consume enough dairy in the diet. For muscular growth, yogurt, cheese, and low-fat milk are advised dairy products.
Beans and Lentils
You might not be aware that some vegetables can also provide protein. When coupled with grains like rice, beans, and lentils, which are both high in protein, can effectively replace meat in many meals. Chickpeas, kidney beans, black beans, and pinto beans are among the many beans and legumes that are good sources of protein.
Nuts and Seeds
Nuts and seeds are another top-notch food item for anyone looking to gain muscle mass. They are rich in vitamins, minerals, healthy fats, and protein. Nuts and seeds assist the body stay energized and aid in the rehabilitation of the muscles after exercise. Almonds, walnuts, sunflower seeds, chia seeds, and flax seeds are a few healthy nut and seed options.
What to Avoid for Muscle Building
In your diet, you should incorporate a range of foods, but there are certain that you should avoid. A few of these include:
Alcohol
Alcohol might hinder your efforts to gain muscle and burn fat, especially if you consume it excessively. If you're serious about growing muscle, it's advisable to stay away from all alcoholic beverages.
High-sugar Foods
These are high in calories but low in nutrition. Candy, cookies, doughnuts, ice cream, cake, and sugar-sweetened beverages, such as soda and sports drinks, are some foods that have a lot of added sugar.
Fast Food
When ingested in excess, these could increase inflammation and even lead to disease and. Fast food like hamburgers, fries, and chicken nuggets are laden with calories and bad fats, which is bad for your muscle growth.
A 7-Day 16:8 Diet Meal Plan to Avoid Muscle Loss
As previously stated, the entire meal plan for a full week is provided here to aid in your rapid muscle growth.
Monday
Meal#1:Banana Walnut Oatmeal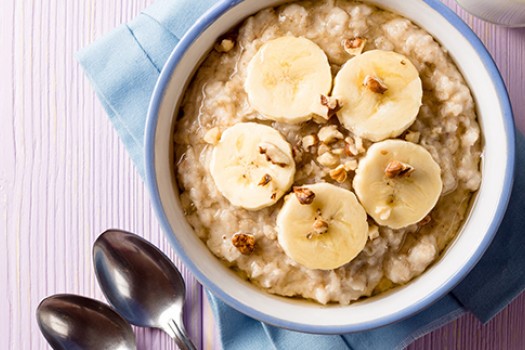 Ingredients:
1.5 cups of milk (non-fat, dry)
2 3/4 cups of water, 1 dash of salt
2 cups of oats (quick cooking)
(2) bananas (very ripe, mashed)
two tablespoons of maple syrup
two teaspoons of walnuts (chopped)
Directions:
Salt, extra water, and reconstituted non-fat dried milk should all be combined in a small pot. Until steaming hot but not boiling, cook over medium-low heat.
Incorporate the oats and mix for 1 to 2 minutes, or until creamy.
After turning off the heat, add the maple syrup and mashed banana. Serve by dividing into 4 bowls and topping with walnuts.
Snack#1: Ambrosia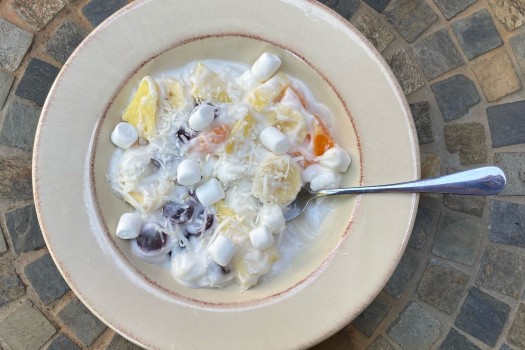 Ingredients:
pineapple pieces from one can (in juice, 20 oz., drained)
1.3 cups of mandarin oranges (drained)
I banana (peeled and sliced)
1.5 cups of grapes (seedless)
3/4 cup marshmallows (miniature)
1/3 cup of coconut (flaked)
1 cup of fat-free vanilla yogurt (8 ounces)
Directions:
Peel the oranges and pineapple. Using juice as a beverage.
Cocoa, marshmallows, and fruit should all be combined.
Yogurt should be incorporated.
Chill.
Serve.
Snack#2: Apple Tuna Sandwiches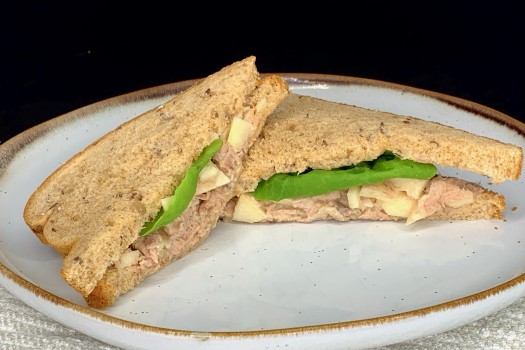 Ingredients:
1 can of tuna in water (6.5 ounces, drained)
1 apple
1/4 cup low-fat vanilla yogurt
1 tablespoon of mustard
1 tsp. of honey
6 pieces of whole-grain bread
3 leaves of lettuce
Directions:
With soap and water, clean your hands.
Peel and wash the apple. Cut it up into little pieces.
The tuna can should have its water removed.
In a medium bowl, combine the yogurt, apple, mustard, and honey with the tuna. Then stir.
3 slices of bread should each have 1/2 cup of the tuna mixture spread on it.
Each sandwich should have a slice of bread and a cleaned lettuce leaf on top.
Meal#2: 2-Step Chicken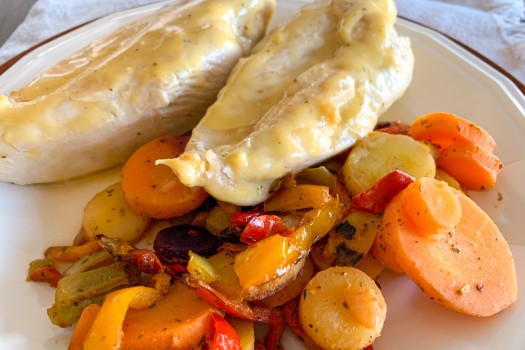 Ingredients:
1 tablespoon of vegetable oil
2 boneless chicken breasts
1 can of cream of chicken soup (10 ounces)
half a cup of water
Directions:
Using a medium-high heat setting, warm the oil in a skillet.
Ten minutes after adding the chicken, remove it.
Remove the chicken from the pan and place it aside.
In a skillet, combine the water and soup, stirring to combine the ingredients.
Go back to the skillet with the chicken. Once the chicken reaches a temperature of 165°F internally, lower the heat to low and simmer for an additional 10 minutes.
Tuesday
Meal#1: Broccoli Omelet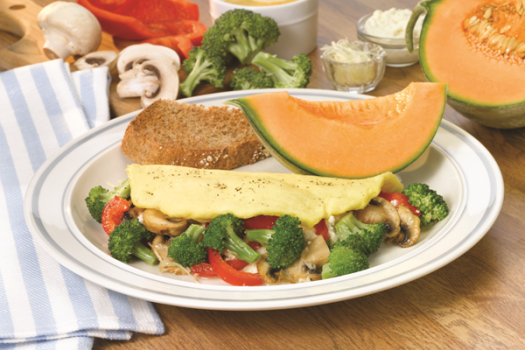 Ingredients:
3 cups broccoli florets
1 substantial red bell pepper (cut into strips)
16 button mushrooms, cut, cooking spray
4 eggs
8 egg whites from 8 eggs
1/4 cup milk (fat-free)
1/2 cup ricotta cheese
2 tablespoons of grated Parmesan cheese
1/8 teaspoon each of salt and pepper.
Directions:
Cut the vegetables.
In a small mixing bowl, whisk the milk and eggs together.
Using cooking spray, coat a 10-inch nonstick skillet; heat.
Add the mushrooms, broccoli, and peppers and sauté for 3 to 5 minutes before removing from the pan.
Snack#1: Bean Dip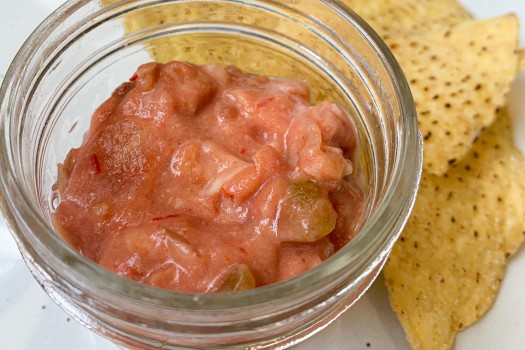 Ingredients:
canned or cooked beans, 1/3 cup (pinto work great)
Plain yogurt with one-third of a teaspoon (1 teaspoon)
One salsa serving
Directions:
Fill a little plastic bag with beans and reseal it. Expel extra air before sealing. Utilizing fingers, mash beans.
Embrace yogurt and salsa. Using your fingers, stir the bag after sealing it.
Squeeze out dip either opening the bag or cutting off a corner of the bag.
Snack#2: Roasted Pumpkin Seed Snack Mix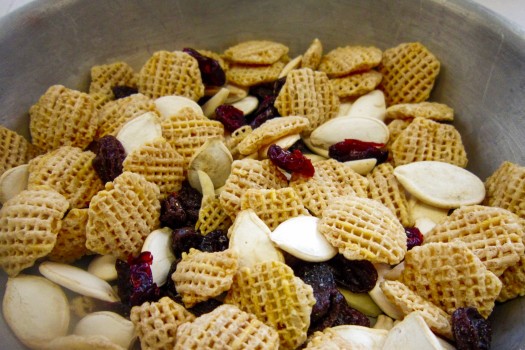 Ingredients:
2 cups of wheat or crispy rice cereal squares
Roasted whole pumpkin seeds in a half-cup
1/3 cup of slivered almonds
1/2 cup of dried cranberries
1/2 cup raisins
Directions:
With soap and water, clean your hands.
Enjoy after combining all the ingredients.
Meal#2: Beef & Potatoes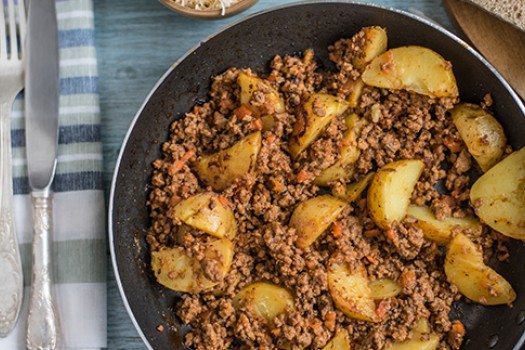 Ingredients:
One pound of 90% lean ground beef
1 1/3 cups of water
7 medium potatoes, peeled, and thinly sliced
12 tablespoons Seasoning Your Food Wisely (3/4 cup) Combine.
Salt (to taste, optional) (to taste, optional)
Directions:
Peel and wash your potatoes.
Before beginning to prepare the meal, gather, slice, and measure all of the ingredients.
In a big skillet, brown the ground beef. Remove the fat.
Add the potatoes, water, and seasoning blend. Combine with the beef by stirring.
When the potatoes are ready, simmer for 20 to 30 minutes with the lid on after bringing to a boil.
Cook without the cover until the extra water has evaporated.
If necessary, add a small bit of salt after tasting.
Wednesday
Meal#1: Eggs over Kale and Sweet Potato Grits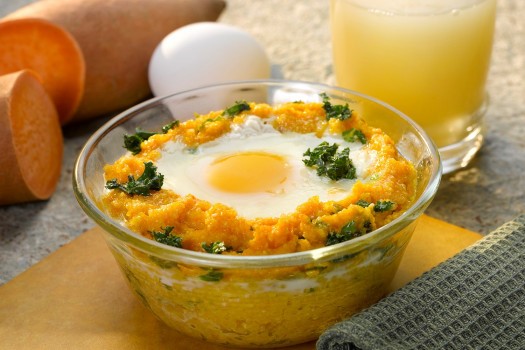 Ingredients:
1-gallon sweet potato (orange flesh)
fresh kale, two cups (chopped)
1/9 cup of vegetable oil (divided)
1/2 a cup of water
one cup of nonfat milk
3/4 cup of grits (quick cooking)
1/8 teaspoon salt
4 eggs
Directions:
Set the oven to 350 degrees Fahrenheit.
1 tsp vegetable oil should be used to coat 4 separate soufflé dishes.
To cook sweet potatoes in the microwave, make 3–4 slits in each.
Peel, chop into bits and puree in a food processor when the sweet potatoes are cold enough to handle.
Kale should be sautéed for around 5 minutes in the remaining vegetable oil in the sauce pan.
Boiling milk and water in a medium saucepan, add the grits, and cook for 5 minutes. Stir in sautéed kale after removing from heat.
Evenly distribute the grits mixture among the four soufflé dishes (or place all in casserole dish).
The back of a large spoon should be used to create 4 depressions in the grits mixture. In each hollow, carefully crack one egg.
To cook the eggs, bake uncovered for 30 minutes.
Snack#1: Peachy Peanut Butter Pita Pockets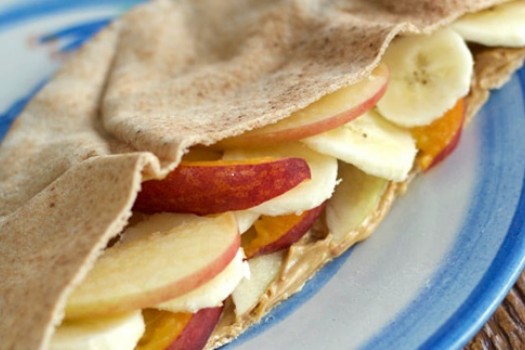 Ingredients:
2 pockets of pita (medium, whole wheat)
1/4 cup peanut butter (reduced fat, chunky)
1/2 apple (cored and thinly sliced)
1/2 banana (thinly sliced)
1/2 peach (fresh, thinly sliced)
Directions:
Pitas should be divided in half to create 4 pockets. To make them more flexible, reheat in the microwave for 10 seconds.
Spread a tiny amount of peanut butter over the interior walls of each pocket after carefully opening it.
Slices of apple, banana, and peach should be inserted. At room temperature, serve.
Snack#2: Dutch Apple Yogurt Dessert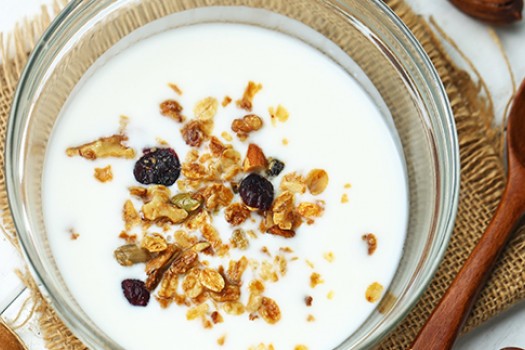 Ingredients:
Vanilla non-fat yogurt in 1/2 cup
1/2 cup of unsweetened applesauce
1 teaspoon raisins (seedless)
1/4 teaspoon cinnamon (ground)
1 tsp. brown sugar
1 teaspoon of nuts (as a topping or crunchy cereal)
Directions:
Wash your hands thoroughly with soap and warm water.
In a small bowl, combine all the ingredients.
Cover and chill in the refrigerator.
Eat and take pleasure in as a dessert or a snack.
Meal#2: Quinoa and Black Bean Salad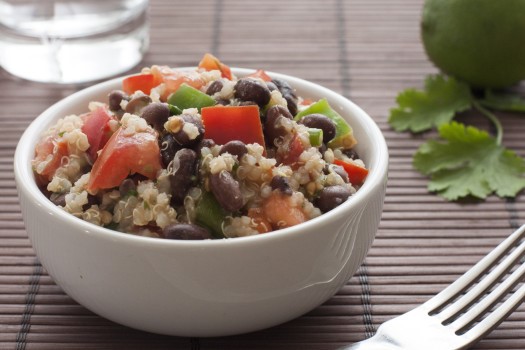 Ingredients:
1/2 cup quinoa (dry)
1 1/2 cups water
1 1/2 tablespoons of olive oil
3 teaspoons juice from three limes
1/4 teaspoon cumin
1/8 teaspoon of coriander (ground, dried cilantro seeds)
2 tablespoons of cilantro (chopped)
3 scallions (medium, minced)
1 can of black beans (15.5 ounces can rinse and drained)
2 cups tomato (chopped)
1 bell pepper, red (medium, chopped)
1 pepper, green (medium, chopped)
2 green chilies (minced, to taste)
Black pepper (to taste)
Directions:
With soap and water, clean your hands.
Cleanse the quinoa with cool water. Quinoa is added to boiling water in a pan.
Regain a boil, and then simmer for 10 to 15 minutes to let the water be absorbed. fifteen minutes to cool.
Combine olive oil, lime juice, cumin, coriander, chopped cilantro, and scallions in a small bowl; leave aside while the quinoa cooks.
Place the black beans and cut veggies in a big bowl and put aside.
Mix all ingredients thoroughly once the quinoa has cooled.
Until you are ready to serve, cover and chill.
Thursday
Meal#1: Very Berry Muesli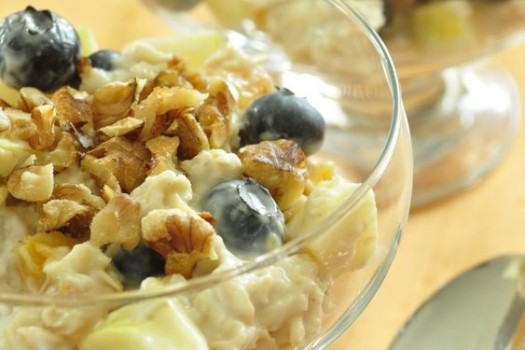 Ingredients:
1 cup fruit yogurt with less fat
1 cup rolled old-fashioned oats (raw)
1% milk or 1/2 cup fat-free milk
50 g of dried fruit (try raisins, apricots, and dates)
1/3 of a medium apple, or 1/2 cup of cut apples
1/2 cup of frozen blueberries
1/4 cup of roasted walnuts (chopped)
Directions:
With soap and water, clean your hands.
Mix the oats, milk, and yogurt in a medium bowl.
For 6 to 12 hours, cover and chill.
Mix carefully after adding the dried and fresh fruit.
In tiny bowls, place scoops of muesli. Add chopped nuts to each serving.
Snack#1: Fruit Milk Shakes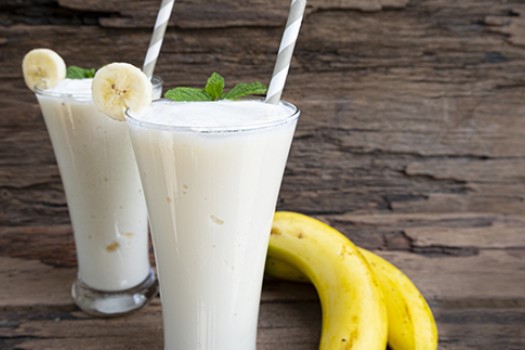 Ingredients:
a cup of milk (or water)
a half-cup of nonfat dry milk
Two ripe bananas or one-third cup of orange juice concentrate
A half-teaspoon of vanilla
10 big cubes of ice
Directions:
Combine the above ingredients in a blender. Blend for 30 to 60 seconds.
Snack#2: Oat Snack Cakes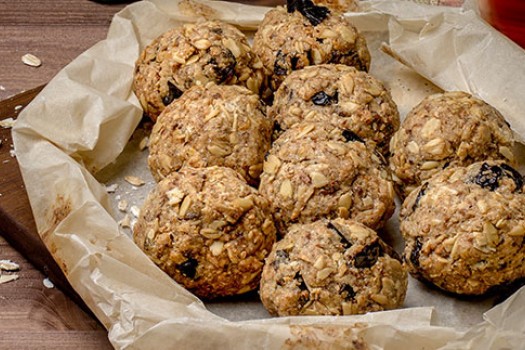 Ingredients:
6 cups of raw oats
2 cups of whole wheat flour and 1 cup of flour (all-purpose)
2 teaspoons of baking soda to 1 cup of sugar
1/2 teaspoon of salt and 1 teaspoon of cinnamon
1/3 cup margarine (softened)
A half-cup of vegetable oil
a vanilla flavoring of two tablespoons
2-egg whites (beaten)
1 tablespoon of water
1.25 cups raisins
Directions:
Turn the oven on to 375 degrees. In a sizable basin, combine the oats, flour, sugar, baking soda, salt, and cinnamon.
The mixture should resemble coarse grain after adding margarine.
Combine water, egg whites, vanilla, and oil. Just until the mixture holds together, stir in the raisins and dry ingredients.
After a thorough hand wash, coat your hands in flour or cornmeal. Form balls out of dough scraps that are about one inch in diameter.
Place balls on a baking sheet that has been sprayed with nonstick cooking spray and press out slightly until they are 1/4 inch thick or so.
Bake for 15-20 minutes, until just beginning to brown. After cooling, place in an airtight container.
Meal#2: Flavorful Fried Rice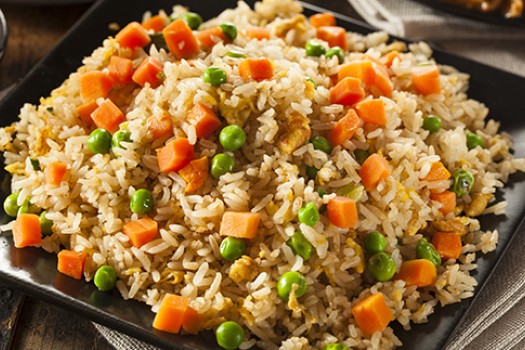 Ingredients:
2 tablespoons cooking oil (or margarine)
1 cup rice, regular, uncooked
3 tablespoons onion (minced)
1/2 cup carrot (chopped or grated)
2 cups water
4 eggs (beaten)
4 egg whites (beaten)
1/4 cup milk, non-fat
1/2 cup peas
2 tablespoons soy sauce
Directions:
Cook rice, minced onion, and grated carrots in oil in a frying pan over medium heat, stirring frequently, until gently browned.
Bring water in gradually. Reduce heat, cover, and simmer for 20 minutes or until rice is cooked and liquid has been absorbed.
Eggs in the bowl are beaten. Add the soy sauce, milk, and peas. Add liquid to the heated rice mixture in the pan.
Cook at medium heat. Gently run a spatula down the pan's bottom and sides as the mixture start to thicken. The egg mixture can cook as a result. proceed up until the eggs are firm.
Friday
Meal#1: Green Onion Omelet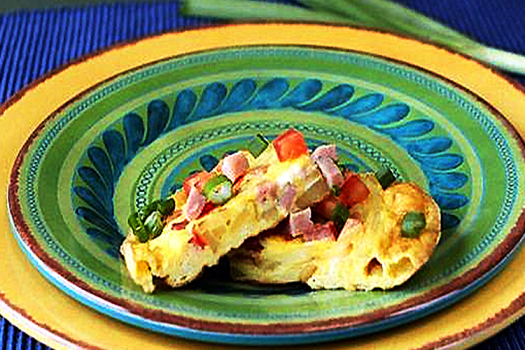 Ingredients:
1 can of drained low-sodium sliced potatoes (about 15 ounces)
1 tablespoon vegetable oil
1 unbroken egg
3 egg whites
1/3 cup 1% reduced-fat milk
1/4 teaspoon of salt
1/2 cup diced ham
1/2 can of drained low-sodium tomatoes (about 8 ounces)
1 tablespoon finely chopped green or wild onions
Directions:
Sliced potatoes in a can; open and drain. potato slices into strips.
Potatoes should be lightly browned in vegetable oil for 5 to 10 minutes in a large skillet over medium heat.
Add salt, milk, egg, and egg whites to a mixing bowl. Well combine
Tomatoes, ham, and green (or wild) onions are all stirred in.
In the skillet with potatoes, pour the egg mixture.
Cook eggs over medium heat in a covered skillet until they are hard but not runny (about 8 minutes).
The omelet should be served in four slices.
Snack#1: White Bean Bruschetta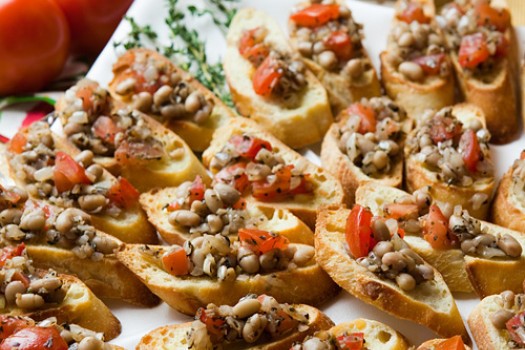 Ingredients:
12 thin, bias-cut slices from a single whole-wheat French baguette
Olive oil, divided into 1/4 cup
4 cloves of minced garlic and 1 cup of white onion
1 tsp. dried basil
dried oregano, 1 teaspoon
drained and rinsed, 1 cup of canned navy beans
2 cubed and cored tomatoes
1 teaspoon balsamic vinegar
Directions:
The baguette should be cut into thin slices on the diagonal.
2 tablespoons of the olive oil are heated over medium heat in a sizable sauté pan.
Slices of bread should sizzle and turn golden when they are placed in a pan and cooked on medium-high heat. Add another tablespoon of olive oil to the pan and cook the second side of the bread until golden before flipping it.
Cook the onions with the remaining tablespoon of olive oil for the topping over medium heat for about 7 minutes, or until the onions are soft.
Cook for a further minute or two, until fragrant, after adding the garlic, basil, and oregano.
Five more minutes of simmering time should be added after adding the beans. After adding the tomatoes, turn off the heat to let them warm up without cooking.
After adding the balsamic vinegar, give the pan a gentle toss.
Enjoy the grilled bread with generous spoonfuls of the tomato-bean mixture.
Snack#2: Tropical Yogurt Pops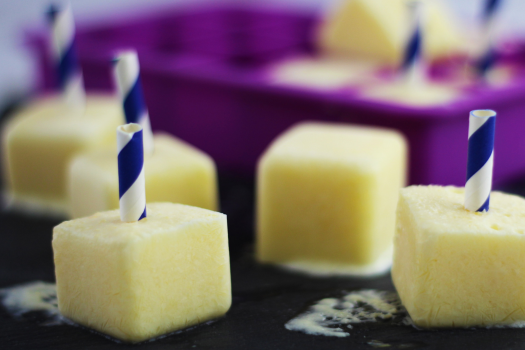 Ingredients:
1 cup vanilla yogurt with low fat
a half-cup of mango slices (fresh or frozen)
a half-cup of pineapple pieces (fresh, canned, or frozen)
1/4 cup coconut water
Ice cube tray: one (or paper cups)
Directions:
Blenderize all ingredients together.
until smooth, blend on high.
Place in popsicle sticks after pouring into 4 small paper cups (or 8 ice cubes) (or cut paper straws).
Freeze.
Savor this frozen delight!
Meal#2: Apricot & Lemon Chicken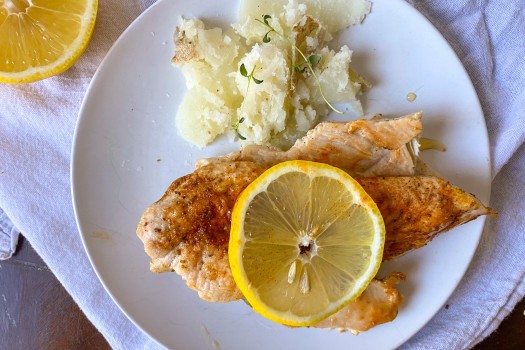 Ingredients:
Four skinless, boneless chicken breasts (medium)
1 teaspoon cumin
5 tablespoons of apricot spread, or roughly 1/3 cup
2 tablespoons of water and 1 fresh lemon juice
Directions:
By using soap and water, wash your hands.
Put the chicken in the skillet after seasoning with cumin.
6 minutes on each side, or until well cooked, in medium-high heat. Keep warm after removing from the pan.
Lemon juice, water, and apricot spread are added to the skillet. Stir constantly while heating on medium.
Warm chicken with sauce on top is served.
Saturday
Meal#1: Peanut Butter Muffins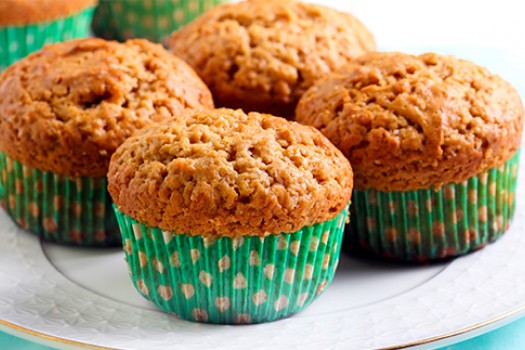 Ingredients:
1/3 cup peanut butter (chunky)
1 tablespoon honey
1 cup of skim milk and 2 eggs
1 1/2 cups of flour
1/2 cup of cornmeal
3 teaspoons of sugar
2 tablespoons baking powder
1/2 teaspoon salt
Directions:
Turn the oven on to 375 degrees.
Use paper baking cups to line 12 muffin tins (or grease the bottom of each cup with butter or margarine).
Mix the honey and peanut butter in a bowl. Mix thoroughly after beating.
Beat well after each egg before adding the next one.
Add the milk and thoroughly combine.
Add the baking powder, salt, sugar, cornmeal, and flour. Just enough stirring will make them wet. Avoid stirring them too much.
Half-full each muffin cup.
Until golden brown, bake for 20 to 25 minutes.
Add to a wire rack.
At least 10 minutes should pass before serving.
Snack#1: Simple Fish Tacos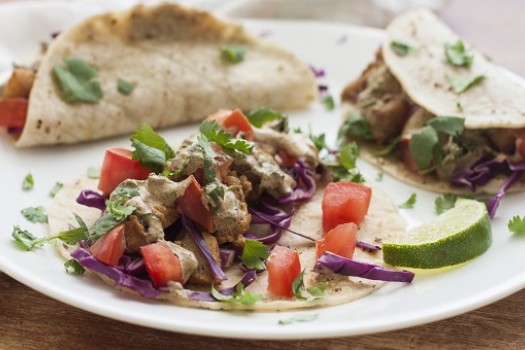 Ingredients:
A half-cup of sour cream (non-fat)
Mayonnaise, 1/4 cup (fat-free)
a half-cup of fresh cilantro (chopped)
a half-packet of taco seasoning (divided)
Cod or white fish fillets weighing one pound (cut into 1-inch pieces)
Olive oil, 1 tbsp
Lemon juice, two tablespoons
Red and green cabbage, 2 cups (shredded)
a cup of tomato (diced)
12 tortillas de Maiz (6-inch, warmed)
lime slices (for serving)
Directions:
Combine 2 Tbsp of the seasoning mix, the mayonnaise, cilantro, and sour cream in a small bowl.
Cod, remaining seasoning combination, lemon juice, and vegetable oil are combined in a larger bowl before being added to a big skillet. Cook, stirring frequently, for 4–5 minutes at medium–high heat, or until cod flakes readily when probed with a fork.
Warm tortillas and stuff with fish mixture.
Add taco sauce, tomato, sour cream mixture, lime wedges, and cabbage on top.
Snack#2: Pumpkin Pudding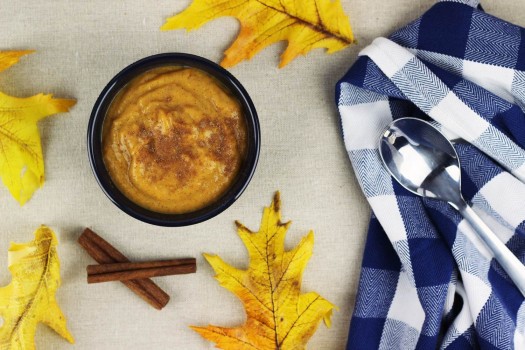 Ingredients:
1-can of pumpkin (15 ounces or 2 cups cooked mashed squash such as Hubbard)
1 teaspoon cinnamon, 1/2 teaspoon ginger, 1/4 teaspoon nutmeg, and 1/4 teaspoon cloves, or 2 teaspoons pumpkin pie spice
1 1/2 cups of 1% low-fat milk and 1/8 teaspoon of salt
1 vanilla instant pudding (3.5 oz)
Directions:
Do not forget to first wash your hands. Pumpkin, salt, and pumpkin spice should all be combined in a big basin.
Add the milk and whisk it in thoroughly. Stir for 2 minutes while adding instant pudding mix to make it thicker. Refrigerate until ready to serve.
Meal#2: Apple, Fennel & Chicken Salad with Couscous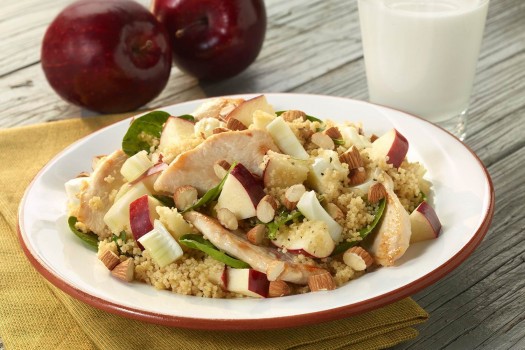 Ingredients:
Unboned chicken breast weighing 12 ounces (2-3 breasts)
3 teaspoons of olive oil (divided)
one cup of whole-wheat couscous
two medium-sized apples
Lemon juice, 1 tablespoon (divided)
1 bulb of fennel
1 tbsp balsamic vinegar
1 tbsp sugar
1/4 teaspoon salt and 1/8 teaspoon black pepper
3 1/2 cups of wholesome baby spinach (about 3.5 cups)
8 walnuts in a cup (chopped, may use pecans or almonds)
Directions:
Crosswise, cut chicken breasts into 1/2″ strips.
In a large skillet over medium heat, warm 1 tablespoon of olive oil.
Remove from fire after adding the chicken and cooking it for 8 to 10 minutes until done.
Couscous should be prepared per package directions and allowed to cool while the chicken is sautéing.
Apples should be cored, chopped, and added to a large bowl with 1 tablespoon of lemon juice.
The fennel bulb should be chopped and added to the bowl, stem, and fronds removed.
Balsamic vinegar, sugar, salt, and pepper should be incorporated with the remaining oil and lemon juice in a small bowl.
In the bowl with the apples and fennel, add the chicken, couscous, spinach, and nuts.
Add dressing, toss to combine, and serve.
It can be prepared many hours beforehand and chilled.
Sunday
Meal#1: Baked Eggs & Cheese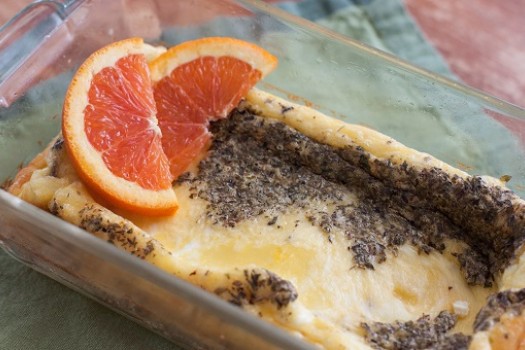 Ingredients:
1 teaspoon of oil
6 eggs
One-half cup of nonfat milk
a half-cup of low-fat cheese (grated)
1 teaspoon of powdered garlic
1 1/2 tablespoons oregano
Directions:
A 350-degree oven is ideal.
Oil should be heated in the oven for a few minutes in a medium baking dish or small cake pan.
Whip the eggs in a bowl. Combine with the remaining ingredients. Distribute into a heated pan.
Eggs should be hard after 20 minutes of baking. Serve instantly.
To cut down on fat and cholesterol, use 4 eggs and 4 egg whites as opposed to 6. (nutrient analysis reflects this modification).
Snack#1: Sweet Potato Patties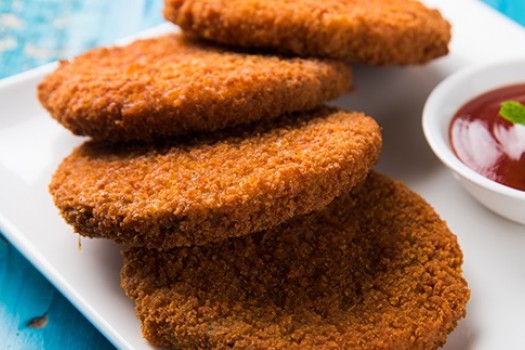 Ingredients:
three sweet potatoes
1-cup of bread crumbs (crushed)
1 tablespoon vegetable oil
Directions:
The sweet potatoes should be cleaned.
The sweet potatoes should be microwave-baked until tender.
Sweet potatoes should be stripped of their peels.
Place the sweet potatoes in a medium basin. With a fork, mash them.
Utilizing a rolling pin or jar, crush the breadcrumbs on a chopping board.
Place the crushed bread crumbs in a small bowl.
Six tiny patties of sweet potato should be formed.
Each burger should be rolled in the crumbs after being formed.
In a frying pan, heat the oil on medium.
Each patty is cooked in the oil until it is golden brown on both sides.
Snack#2: Magical Fruit Salad
Ingredients:
1 can of pineapple chunks (20 ounces)
1/2 pound of seedless grapes in either red or green
2 bananas
1 3/4 cups non-fat or low-fat milk
1 container (3 1/2 ounces) of quick lemon or vanilla pudding mix
Directions:
Empty the juice. Fill a big bowl with the chunks.
After rinsing, drain the grapes. Give the bowl some grapes.
Cut the bananas into bite-size pieces after peeling. Including to the bowl
the berries with the milk. Add the pudding mix and stir the fruit mixture slowly.
After 5 minutes, serve the combination.
You have two hours to refrigerate leftovers.
Meal#2: Black Bean Soup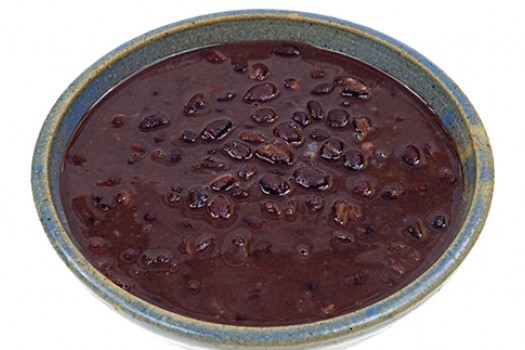 Ingredients:
1 cup onions (chopped)
3/4 cup celery (chopped)
2-tablespoons of garlic (chopped)
1-and-a-half cups beef broth (fat removed)
2 cans of black beans (15 ounces each, drained and rinsed)
3/4 cup salsa (thick and chunky)
One and a half teaspoons of cumin
1/2 teaspoon of onion powder
1/8 teaspoon of oregano (dried)
Directions:
In a saucepan, mix all the ingredients.
Vegetables should be soft after 20 to 25 minutes of simmering with the cover on.
Then enjoy it!
Gaining muscular bulk requires a suitable bodybuilding diet. You can discover a way to reach your fitness objectives by adhering to the advice and food plan provided in this article. Supplements shouldn't be used to replace real meals; rather, they should be taken as an additional energy boost. Consume nutrient-dense foods to make sure your body gets all the vitamins and minerals it needs for the best possible muscle growth.
Final Words
For losing weight and gaining muscle as well, you should try some useful tools or just phone apps to help track your meals and body situations. SoonFasting is an app that can help you record your everyday meals, water intake, protein intake, weight changes, and so on.
The SoonFasting app is excellent to download whether you're a health enthusiast or a novice in nutrition. The app offers numerous recipes, food plans, and workouts in addition to tracking your nutrient consumption and exercise. Additionally, there is an area for the community where users can provide advice and assist one another. The app is free, but you can upgrade to a paid account to gain access to premium features, such as personalized nutrition labels, daily averages, and sophisticated statistics on your nutrient consumption and overall development. However, it all depends on your own lifestyle and habits to avoid muscle loss and keep a healthy and happy life. An app is just a tool you can take advantage of for better recording your everyday plan and changes for the purpose of taking a review and absorbing some experience from your success or even failure.
References: