You might be wondering if you can go without breakfast because intermittent fasting is becoming more popular in the health and fitness community. Breakfast is not only not required when intermittent fasting, but it is also not recommended. The most popular approach is a 16-hour overnight fast, followed by an 8-hour interval for eating. However, experts in nutrition have long advocated the importance of breakfast. According to Antigone Senn, RDN, a registered dietitian nutritionist at Henry Ford Health, "breakfast sets the tone for the day."
Beginners who are practicing intermittent fasting frequently ask questions like "Should I miss breakfast when using intermittent fasting?" and "Does breakfast break my fast?" They make such assumptions based on breakfast, which makes sense. After all, breakfast has a significant impact on people's lives.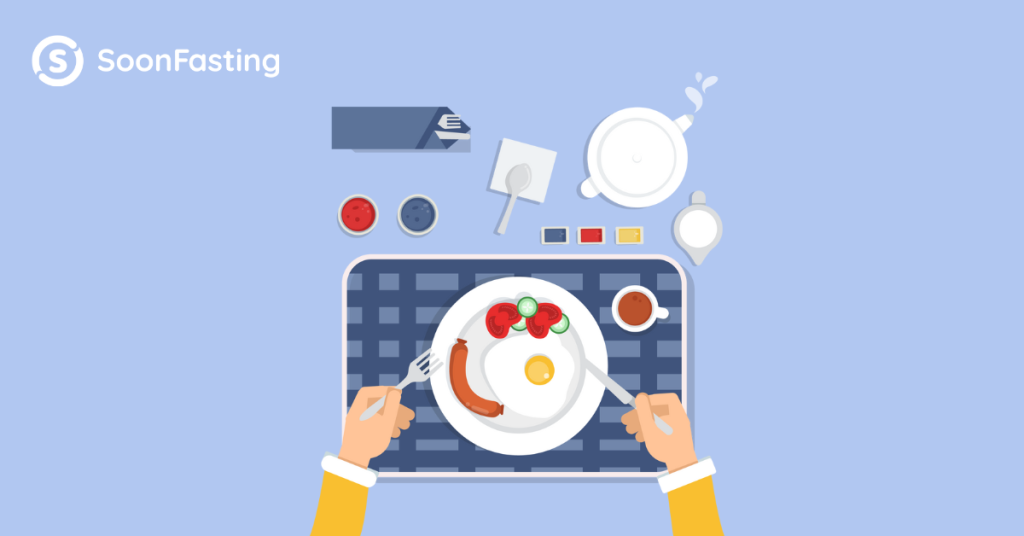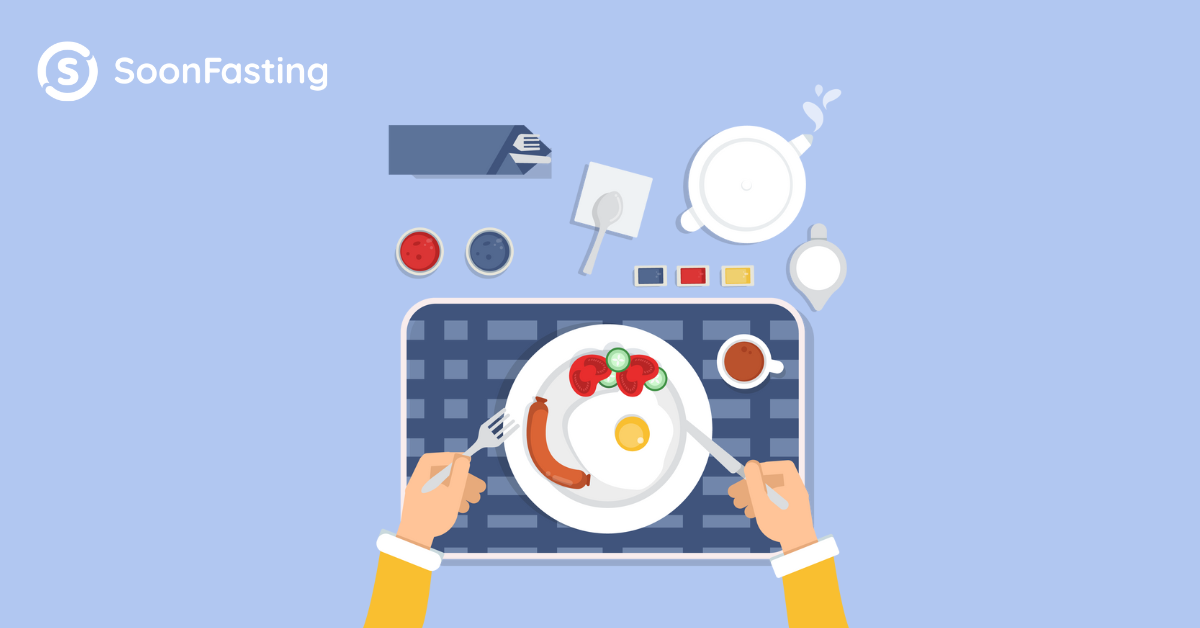 Why do We Call It Breakfast?
Breakfast is the more common name for that first meal of the day. Break and fast are the two words that make up this compound word if you split it into two halves. Fasting is the practice of not eating. Therefore, "breakfast" refers to breaking the fast you've been keeping since going to bed the night before!
So, does breakfast break your fast? In fact, it depends on the time your breakfast starts. If you have a breakfast, even a light one, while you are still in the fasting window, your fast will be broken. As long as you eat meals that are acceptable for intermittent fasting, having breakfast at a time that is within or near the top of your eating window won't end your fast. What should be eaten for breakfast will be covered in the discussion that follows.
As a result, you can consider this article to be finished since you don't need to read any more if your breakfast is consumed during your fasting window. The following information, however, can never be missed if your breakfast is consumed at your eating window.
Which window should I set my breakfast in, then? Breakfast is a subject on which various people may have varied opinions. Black coffee is suitable for those who wake up without an appetite. However, some people find it difficult to resist going without food in the morning.
3 Highs And 2 Lows
It is important to follow some guidelines while making breakfast that is top-friendly for intermittent fasting. These guidelines can be quickly remembered as "3 highs and 2 lows."
What Are 3 Highs?
High Nutrients
You consume high-nutrient, also known as nutrient-dense, foods every day in whole-food form. Foods that are high in nutrients are those that don't have a lot of sodium, added sugars, or saturated fat but are nonetheless high in vitamins, minerals, and other nutrients that are vital to health. Fruits, vegetables, whole grains, non-fat and low-fat dairy, fish, seafood, unprocessed lean meat, skinless chicken, nuts, and legumes are some of the foods we are discussing.
High Fiber
Breakfast should be composed of foods that are high in fiber because they are complex carbs, such as whole-grain bread or cereal, fresh fruits, vegetables, etc. When compared to solely white grains, high-fiber foods slow down digestion, stabilize blood sugar, and keep you fuller for longer.
High Proteins
Breakfast should consist of high-lean protein foods because they help you maintain blood sugar levels and keep you fuller for longer. Poultry, fish, eggs, seafood, milk, seeds, nuts, beans, legumes, soy, whole grains, etc. are some of the foods high in protein.
One of the greatest strategies to maintain a healthy weight, according to Carl H. Johnson's studies, is to have a larger, protein-rich breakfast. Therefore, a healthy breakfast helps people maintain their weight in addition to giving them the nutrients they need.
What Are 2 Lows?
Low Carb
A low-carb diet restricts carbs, which are mostly found in bread, pasta, and sweet foods. While carbohydrates are not entirely terrible for you, consuming too many of them can lead to weight gain, high blood sugar, or sugar addiction, all of which are detrimental to your health.
Low Sugar
A golden rule that should be maintained to maintain a balance between nutrients and weight is to consume little to no sugar at every meal, whether it be breakfast or dinner. High sugar intake causes weight gain, raises the chance of cancer, Type 2 diabetes, heart disease, and other illnesses, as well as hastens the aging process for your skin. In order to follow the low-sugar diet, one must consume fewer foods that naturally contain sugars as well as added sugars and sweeteners. A low-sugar diet is easier to follow than a sugar-free one (which restricts healthy fruits and vegetables containing naturally occurring sugars)
Basic Formula For Your Breakfast
Choose lean protein food like chicken, sliced beef, smoked salmon, ham, and low-fat dairy food like fresh cheese, eggs, milk, and sugar-free yogurt.
Choose healthy fats like avocado, whole nuts, nut butter, flax, chia, pumpkin, and other seeds, as well as unsalted nuts and seeds.
Choose high-fiber carbohydrates like starchy vegetables, legumes, fresh fruits, seeded sourdough bread, oatmeal, and multigrain bread.
Choose healthy drinks like black coffee, plain water, lemon water, and plain tea.
How Many Calories Should a Breakfast Include to Breaking My Fasting Window?
Before delving further into the precise calorie amount, it is important to keep in mind that what you eat, not just how many calories you consume, is what counts most.
The USDA estimates that women typically need between 1,600 and 2,400 calories per day. Men are thought to need between 2,000 and 3,000 calories per day more than women. Experts advise cutting your daily caloric intake by about 500 to 750 calories per day if you want to lose 1 to 2 pounds per week, which is the suggested target for healthy, sustainable weight loss.
Because everyone has different caloric demands, you may want to divide your calories in a method that works for you. You can divide your overall calorie intake to suit your lifestyle and schedule to determine how many calories you should consume for breakfast. Most people would want to aim for 300 to 500 calories for breakfast, but depending on your needs and goals, you might need more. Remember that studies suggest it could be better to eat a larger breakfast than a larger dinner. A higher-calorie breakfast has been associated with fewer hunger sensations and sugar cravings later in the day. The metabolism may be more active in the morning.
Here are various circumstances when breakfast might involve calorie consumption. A person who consumes 1,600 calories per day, for example, might require a few extra calories in the morning due to an early workout. Their calories may be distributed as follows:
Snack before exercise: 150 calories
Breakfast after workout:500 calories
Lunch:400 calories
Dinner:400 calories
Snack:150 calories
Recommended Breakfast Recipes For Intermittent Fasting
What is a healthy breakfast like? Here are some ideas to manage your breakfast during intermittent fasting:
Recipe 1: Pancakes
Add oats to the batter.
Add banana.
Yogurt and fruit should be served.
Recipe 2: Simple Sandwich
Use multigrain bread and/or wraps.
Select a lean protein (tuna, egg, ham, low-fat cheese).
Include some vegetables (lettuce, tomato, bean sprouts, spinach, and beetroot).
Recipe 3: Overnight oats or oat/muesli porridge
Incorporate some nuts, seeds, and fresh fruit.
Add tastes like vanilla essence, cacao or cocoa powder, maca powder, ground nutmeg, ground cardamom, protein powder, cacao nibs, etc.
Recipe 4: Eggs scrambled or poached on bread or sourdough
Recipe 5: Healthy smoothies
Pick out some fruit.
Pick a serving of whey protein powder (20 to 25g).
Dairy or plant-based milk is available (unsweetened).
adding nuts, seeds, or oats is optional.
You can add vanilla extracts, cacao powder, nut butter, ground cinnamon, nutmeg, etc. to improve flavor.
Recipe 6: Omelets
Pick the vegetables you like.
Serve with bread or baked beans.
Other Simple Tips For Balanced Breakfast During Intermittent Fasting
Begin with a glass of water before breakfast.
Being well-hydrated is crucial because water makes up roughly 70% of our bodies. So treat yourself to a big glass of warm water before you get out of bed and enjoy breakfast. Your metabolism is boosted, and your cravings are reduced. You'll also feel more energized and fit.
Take enough time to enjoy your breakfast.
You build the foundation for your day when you eat breakfast. As a result, you ought to give yourself plenty of time and deliberately enjoy your meal. Chew your food fully and slowly (20-30 times per bite). Your body will adjust to eating in the greatest way possible this way, and you'll be able to tell when you're full without depriving yourself.
Try making overnight oats or chia pudding if you're short on time in the morning or don't want to get up really early. You can prepare this pudding or oats in the evening and refrigerate it the next day. You can make a potent breakfast to go by combining the ingredients in a preserving jar.
Natural ingredients are recommended to use as much as possible for breakfast.
Foods with the least amount of processing are the best for getting your day (and eating period) off to a healthy start. This implies:
Using fresh fruit in place of fruit juice, smoothies, or jam.
Instead of packaged cereals or cornflakes, try cereal flakes (like oatmeal).
Instead of fruit yogurt with added sugar, use natural or vegan yogurt.
Nuts and seeds such as chia, flax, sunflower, or pumpkin seeds are advisable.
Beverages made from plants, such as oat or almond milk, or dairy goods are good to be included in breakfast.
You can be certain of what is in your meals when you choose natural options. You thereby produce meals that are naturally higher in nutrients, lower in sugar and salt, and devoid of other pointless additives.
References: