Second only to McDonald's, which should come as no surprise, Kentucky Fried Chicken, often known as just KFC, is the largest fast food chain worldwide. Of course, it's really well-liked. And while it might not seem like a healthy choice to eat at a fast-food restaurant that specializes in fried chicken, the KFC menu has a ton of options to suit different diets.
Fast food restaurants can appear to be the enemy if you're attempting to eat healthily. What if, however, we told you that eating at KFC wouldn't make you feel guilty? You did indeed read that correctly! In fact, KFC has many low-calorie choices that won't interfere with your diet. Let's dive in and discuss some of the better options available.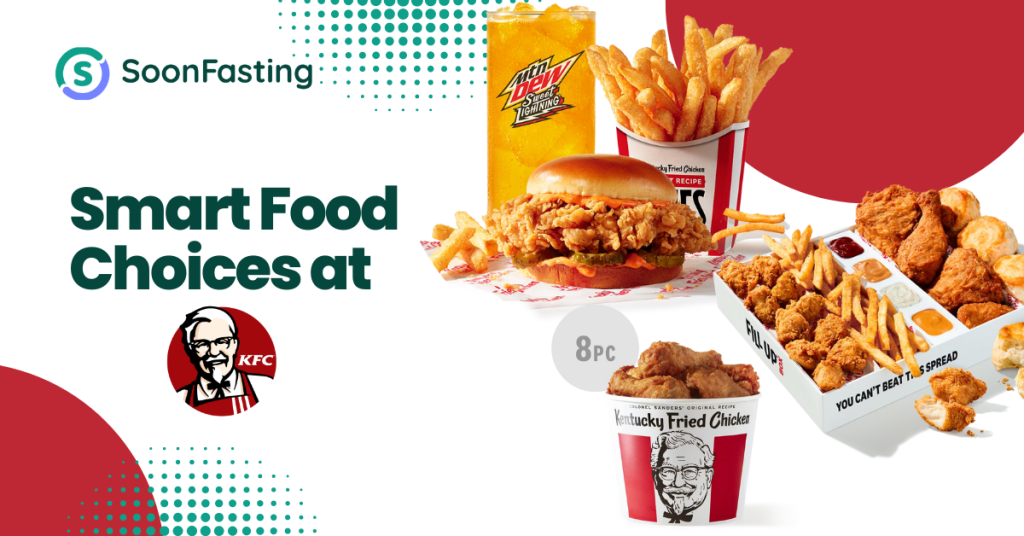 KFC's Nutritional Information
It's critical to understand what goes into your body when eating fast food. Fortunately, KFC offers thorough nutritional data on its website, making it simpler for you to make smart eating decisions. Before delving into the specifics of the menu, let's discuss how to acquire access to KFC's nutritional data. Visit www.kfc.com/nutrition to find the data you require.
It's important to remember that the serving sizes cannot match up with what you're actually getting. A chicken sandwich, for example, may be advertised as one sandwich, but the meal you actually purchase may be double- or triple-decker. It's crucial in these circumstances to immediately determine the caloric and nutritional content of your specific food.
Remember that adding sauces and condiments to your meal can also drastically raise its caloric value. For instance, the honey mustard sauce from KFC adds 70 more calories to your meal. If you're trying to reduce your calorie consumption, request the sauce on the side so you may control how many calories you eat.
Make Smart Food Choices While Eating Out at KFC
Original Recipe Chicken
The chicken is hand-breaded using the proprietary mixture of 11 herbs and spices that have been a part of KFC's Original Recipe since the company's founding. You can order the Original Recipe to go with a dish or a sandwich, or you can choose from 8, 12, or 16 pieces of the renowned bucket of fried chicken.
Select Original Recipe Chicken Whole Wing with 130 calories, 8g fat, 55mg cholesterol, 380mg sodium, and 0g sugars.
Avoid Original Recipe Chicken Breast with 390 calories, 21g fat, 120mg cholesterol, 1190mg sodium, and 0g sugars.
Extra Crispy Chicken
The double-breaded variant of KFC's original recipe is crispier and flakier. The calories in Extra Crispy Chicken are more than in the traditional recipe because it uses more batter and breading.
Select Extra Crispy Chicken Drumstick with 170 calories, 12g fat, 50mg cholesterol, 390mg sodium, and 0g sugars.
Avoid Extra Crispy Chicken Breast with 530 calories, 35g fat, 105mg cholesterol, 1150mg sodium, and 0g sugars.
Kentucky Grilled Chicken
Despite KFC's emphasis on fried chicken, the menu also features a few grilled items that are better for you.
Select Kentucky Grilled Chicken Whole Wing with 70 calories, 3g fat, 45mg cholesterol, 180mg sodium, and 0g sugars.
Avoid Kentucky Grilled Chicken Breast with 210 calories, 7g fat, 130mg cholesterol, 710mg sodium, and 0g sugars.
Tenders and Nuggets
In addition to KFC's conventional way of serving chicken on the bone, chicken tenders and nuggets can be ordered. It's important to keep in mind that dipping sauces contains calories, salt, and sugar and might be difficult to consume in moderation. These smaller options might have fewer calories on their own.
Select Kentucky Fried Nuggets with 35 calories, 1.5g fat, 15mg cholesterol, 140mg sodium, and 0g sugars.
Avoid Extra Crispy Chicken Tenders with 140 calories, 7g fat, 25mg cholesterol, 320mg sodium, and 0g sugars.
Sandwiches
Although they aren't among the healthiest options, quick and portable chicken sandwiches are another well-liked KFC menu item. The addition of bread to already breaded and battered chicken makes KFC's sandwich selections some of the menu items with the highest carb counts.
Select Chicken Littles with 300 calories, 15g fat, 30mg cholesterol, 620mg sodium, and 3g sugars.
Avoid Classic Chicken Sandwich with 650 calories, 35g fat, 90mg cholesterol, 1260mg sodium, and 6g sugars.
Sides
Along with the rare seasonal or regional option, KFC offers a menu of traditional sides. These selections may go with family-style meals, but you can also use the smaller amounts to put together a balanced meal.
Select Green Beans with 25 calories, 0g fat, 0mg cholesterol, 300mg sodium, and 1g sugars.
Avoid Potato Salad with 340 calories, 28g fat, 25mg cholesterol, 290mg sodium, and 3g sugars.
Desserts
Apple turnovers, cookies, and a variety of cake and pie selections are all available from KFC. In terms of calories, fat, and sugar, these choices are potent.
Select Café Valley Lemon Cake (1 Slice) with 220 calories, 10g fat, 30mg cholesterol, 170mg sodium, and 20g sugars.
Avoid Café Valley Mini Chocolate Chip Cake with 300 calories, 12g fat, 40mg cholesterol, 190mg sodium, and 35g sugars.
Beverages
KFC offers the usual assortment of fountain sodas, along with lemonade and iced tea, just like the majority of fast food restaurants. When dining out, it's typically advisable to drink water, even if you have options available, especially if you're having a meal heavy in sodium, like fried dishes.
Select Sobe Lifewater Yumberry Pomegranate 12 fl oz with 0 calories, 0g fat, 0mg cholesterol, 45mg sodium, and 0g sugars.
Avoid Classic Lemonade (1/2 Gallon) with 880 calories, 0g fat, 0mg cholesterol, 780mg sodium, and 228g sugars.
Last Word
KFC is a well-known fast-food company for its "finger-lickin' good" fried chicken, but the menu might be difficult to deal with if you're on a specific diet or have food sensitivities. Luckily, you can prepare your order by looking at the menu online and using KFC's nutrition calculator. By selecting grilled chicken over fried chicken and sticking to straightforward salads in place of high-fat, high-carb sides, you can make better choices at KFC.
References: