Working night hours may affect not just sleep patterns but also food habits. And working for irregular hours, as a common phenomenon of night shift workers, might lead to poor eating habits and have a detrimental impact on your overall health. With a little forethought and organization, you can provide your body with healthy meals even throughout the night hours. This article digs into the art of night shift meal preparation, providing practical tips to help you maintain a nutritious diet and preserve your energy levels over those long hours.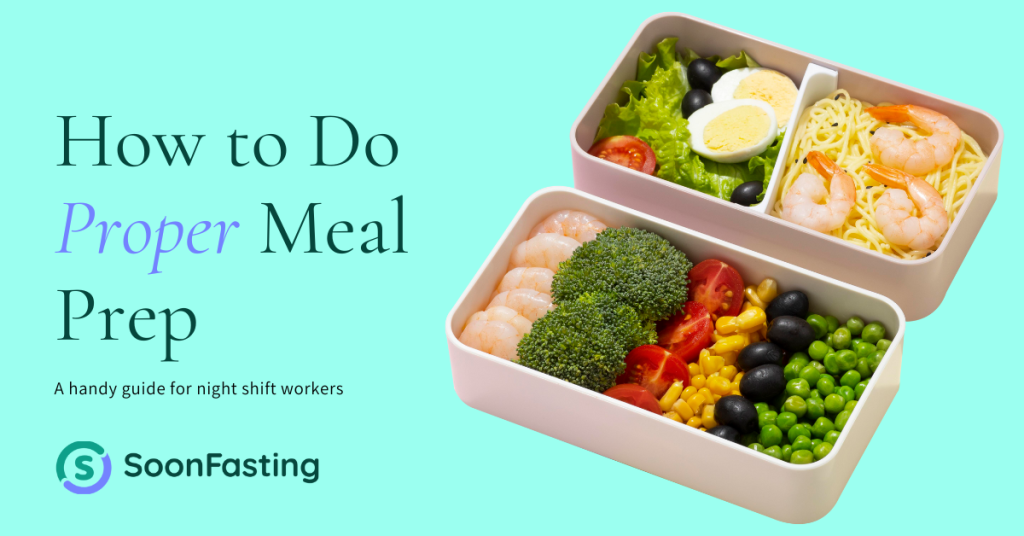 The Night Shift Nutritional Challenge
Working late at night can throw off your dietary habits. Unpredictable breaks, a lack of dining options, and a propensity to eat unhealthy foods can all contribute to bad food choices and major health problems. Meal planning can help you recover control of your diet and general health.
The Benefits of Meal Prepping for Night Shifts
Healthier Choices
When you plan and prepare your meals ahead of time, you are more likely to choose nutrient-dense options over unhealthy fast food or snacks.
Meal preparation allows you to control portion sizes, which minimizes overeating during breaks.
Energy Sustainment
Nutrient-rich meals can provide sustained energy throughout your night shift, helping you stay alert and focused.
Time Efficiency
Meal prepping saves time during your breaks, as you won't need to spend precious minutes deciding what to eat or waiting in line.
Effective Meal Prep Strategies
Plan Your Menu
Choose the meals you'll make for your shift. To make balanced meals, combine lean proteins, complete grains, vegetables, and healthy fats.
Batch Cooking
Cook larger quantities of protein (chicken, fish, tofu, etc.), grains (rice, quinoa, pasta), and roasted vegetables to use throughout the week.
Pack in Portions
Divide your prepared meals into portion-sized containers. This not only helps with portion control but also makes it easy to grab a meal and go.
Snack Smart
Prepare healthy snacks like cut fruits, nuts, Greek yogurt, or whole-grain crackers to keep you fueled during breaks.
Hydration
Don't forget to include water in your meal prep routine. Fill a reusable water bottle to stay hydrated during your shift.
Consider Microwaving
If you have access to a microwave at work, prepare meals that can be easily reheated during your breaks.
Experiment with Cold Meals
If a microwave isn't available, explore cold meal options like salads, wraps, and sandwiches filled with nutritious ingredients.
Planning Ahead
Grocery List
Make a shopping list based on your planned meals to ensure you have all the necessary ingredients.
Prep Day
Set aside a specific day or time to prepare your meals for the upcoming shifts.
Variety
Avoid monotony by rotating different proteins, vegetables, and grains to keep your meals exciting.
Freezing
If you're prepping for multiple shifts, consider freezing some portions to maintain freshness.
Mindful Eating During Night Shifts
Stay Consistent
Aim to eat at regular intervals to maintain energy levels throughout your shift.
Avoid Overeating
Listen to your body's hunger cues and avoid overeating during breaks.
Limit Caffeine
While some caffeine might be necessary to stay awake, avoid excessive consumption, especially towards the end of your shift to ensure a good night's sleep.
Conclusion
For those night shift workers who want to maintain a healthy diet despite their hectic schedules, meal preparation is a practical and powerful way. You may successfully nourish your body, maintain your energy levels, and improve your general well-being during those challenging night shifts by planning your menu, packing balanced meals and snacks, and prioritizing nutrient-rich goods.