You've probably heard of HIIT if you've been following the weight loss trade. High-Intensity Interval Training, or HIIT, is a style of exercise that entails quick bursts of vigorous activity followed by rest intervals or lower intensity. HIIT aims at challenging your body by pushing it to its absolute limits during intense intervals and then giving it time to recuperate during the rest intervals. Running, cycling, or bodyweight exercises are a few examples of exercises that can be used in this type of workout to suit varied fitness levels and objectives.
Compared to conventional steady-state workouts, HIIT can be particularly successful in enhancing fitness, burning calories, and boosting endurance in a short period of time. To prevent injury or burnout, it's crucial to begin HIIT cautiously and gradually increase the intensity and duration over time. Unfortunately, some individuals wrongfully feel HIIT doesn't work for weight loss (if done incorrectly, any solution won't work truly). This is due to the clear limits of HIIT. This article is here for that reason.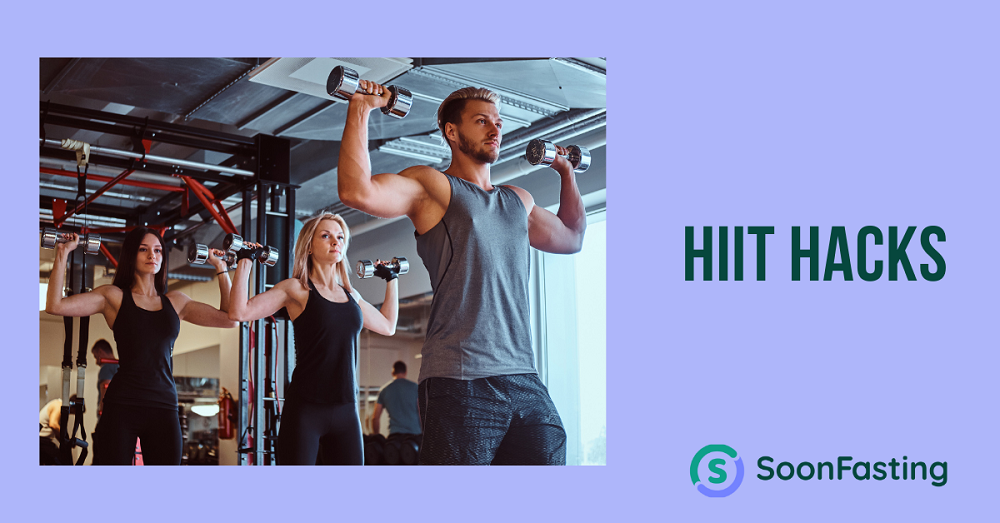 HIIT Benefits for Weight Loss
HIIT may provide the same health benefits as regular exercise in less time by increasing calorie burn and decreasing body fat, heart rate, and blood pressure. In one study, the number of calories burned during 30 minutes of HIIT, weight training, running, and bike was compared. Researchers discovered that HIIT burned between 25 and 30 percent more calories than the other types of exercise. Numerous studies have also demonstrated that HIIT has an amazing ability to increase your metabolic rate for hours after exercise. According to several studies, HIIT increases your metabolism after exercise even more than jogging or weight training. Moreover, starting HIIT may help you build muscle if you are not extremely active, but not as much as you would if you were lifting weights.
HIIT Limitations
Since HIIT places a great deal of stress on the body, its effects are frequently noticeable right away. This kind of demanding exercise, though, can only be sustained for so long. The studies and research on HIIT and the clubs that use this workout are only explored for a little time. It can overstress your body and perhaps result in injuries if done repeatedly every day for a long time. Your body can only withstand so much stress, after all.
Injury risk
High-intensity exercise, such as that involved in HIIT, can raise it if adequate form, technique, and progression are not used.
Not appropriate for everyone
Those who are new to exercise or who have specific medical issues, such as high blood pressure or heart disease, may not be a good fit for HIIT.
Requires recovery time
Because of the intensive nature of HIIT, it is important to allow enough time for rest in between sessions to prevent muscle pain and tiredness.
Effect of a plateau
Like with any activity, HIIT can cause the body to adapt over time, which may result in a halt to fitness improvements.
In conclusion, HIIT may be useful for weight loss, but it must be combined with nutrition and diet. The goal of this article is HIIT+Fasting to achieve healthy weight loss in the true sense as HIIT alone is not enough.
How Long Does HIIT Take for Results?
If you're thinking, "Wow, the benefits of HIIT sound amazing and I need to start ASAP," but you're also unsure of how long it will take to see results, read on. Your level of fitness and your ambitions actually determine this. In the first two to four weeks, you should start to see some changes. If you are already physically fit, it can take longer to observe any effects. In general, you will see results faster if you perform HIIT exercises more regularly. So be careful to do HIIT workouts frequently if you want results rapidly! While HIIT can assist in creating a calorie deficit, it is not the sole aspect of weight loss if you're trying to reduce fat. The success of your efforts will depend entirely on your capacity to do so.
Tips and Tricks to Overcome HIIT Limitations
It's a good idea to have some basic understanding of how to begin with interval training and get beyond some HIIT limits before you lace up your sneakers and start working out. Here are some suggestions for incorporating it into your general fitness program.
Tip 1. Take it Slowly
Pacing yourself is essential because HIIT is designed to be a more intense workout, especially if you don't want to get injured or burn out. Varying the intensity (also known as your speed or the amount of weight you lift), work or rest periods, overall workout duration, and the number of exercises you perform as a means to ease into these routines are very important. When you're ready, move forward at your own pace.
Tip 2. Pay Attention to Full-body Movements
Exercises that train your complete body at or just slightly over your present level of fitness should be your main focus. The ideal exercises are the squat and press, push-up, mountain climber, and burpee.
Tip 3. Pay Attention to Overtraining Warning Signs
Your immune system, cardiovascular system, and muscles are all heavily taxed during HIIT workouts. You can find that you're on the road to overtraining if you conduct too many HIIT sessions per week. Reduced performance, increased fatigue, restlessness, and an increase in injuries due to exercise, agitation, and moodiness are some of the more prevalent warning signs to be aware of. Reduce your activity intensity or take a full day off if you experience any of these warning signs or symptoms. If any of the symptoms of overtraining persist, consult your doctor.
Tip 4. Discover the Ideal Schedule and Diet
Aim for one or two sessions of 15 minutes each, spread out across one or two days per week. You can progressively lengthen your workout to 30 minutes as your body adjusts. You can increase your total exercise plan's HIIT days by one if you still need a challenge. And as for the diet, it is recommended that you try intermittent fasting, which focuses on when to eat rather than what to eat. In fact, HIIT exercises while intermittent fasting can aid in fast fat loss. It might be the quickest and healthiest approach to lose weight.
Tip 5. Be Aware of Muscle Pain
Diffuse muscle soreness that feels like "you got hit by a truck" may occur when you initially begin HIIT on your third or fourth day of training. Actually, this is normal. To get over that hump, the best thing to do is to keep doing quick, simple workouts for another two or three days.
Tip 6. Provide Your Body with Fuel for Harder Workouts
It's crucial to make sure your body is adequately nourished before doing out, especially if you're a newbie. You should have a small lunch with protein, healthy fats, and complex carbohydrates one to two hours before exercising in order to get the most energy possible. Then, choose to eat a post-exercise snack or meal within an hour following your workout.
How Does the Combination of HIIT and Intermittent Fasting Double the Result?
Due to its benefits for weight loss and body fat loss, intermittent fasting (IF) is a dietary strategy that has gained a lot of popularity. However, IF does not seem to guarantee the maintenance of muscle mass. High-intensity interval training (HIIT) could be a desirable and practical treatment alternative for enhancing body composition, lifestyle, and health promotion. What if a weight-loss program included both of these approaches? Just such was the focus of a recent study published in Cell Metabolism.
Four groups of 131 women with an average body mass index (BMI) of 32 were selected by researchers. One group had a 10-hour eating window, while another engaged in 35 minutes of HIIT three times each week. While one group acted as the control, the third group had a 10-hour eating window and performed HIIT exercises three times each week. The researchers took baseline readings of VO2 peak, body fat, and glucose levels. After seven weeks, they measured the subjects once more. The group that combined HIIT with time-restricted meals decreased their blood glucose levels in comparison to the control group. Additionally, compared to the HIIT and time-restricted eating groups, this group dropped twice as much body weight and fat mass. The HIIT groups also saw improvements in their cardiovascular health.
Final Thoughts
High-intensity interval training (HIIT) is a style of exercise that alternates higher-intensity workouts with lower-intensity exercises or rest intervals. However, modifications should always be taken into account in the context of your ability and exercise experience, and HIIT is no exception to this rule. Safety during exercise should always be your top priority in any training session. To give the body time to adjust, enjoy the workout, and maintain consistency in training, we start beginners with fewer weights, shorter workouts, or shorter periods. Exercise intensity can rise over time as fitness levels rise.
In addition, intermittent fasting, as a popular way of losing weight, has also gained lots of attention now. But how about combining HIIT with Intermittent Fasting? Good thought? Both HIIT and intermittent fasting are excellent techniques to keep up a healthy lifestyle. And the study above can also prove that combining these two ways can double your results. But in order to achieve your fitness goals, you must properly balance them. The aforementioned advice can assist you in doing it correctly, but if you suffer any uncomfortable symptoms, speak with your doctor. Give your body enough time to adapt to your new HIIT while doing intermittent fasting by being patient with your approach and increasing your level gradually. Hope you can overcome the limitations of HIIT and reap your own rewards. Fighting!
References: