The most well-liked diet today may be intermittent fasting. Fasts that go longer than a typical overnight fast is a feature of all the distinct varieties. Even while studies have shown that this can aid in weight loss, some people are concerned that intermittent fasting might also lead to a loss of muscle. All the information you require regarding how intermittent fasting affects your muscles is provided in this article.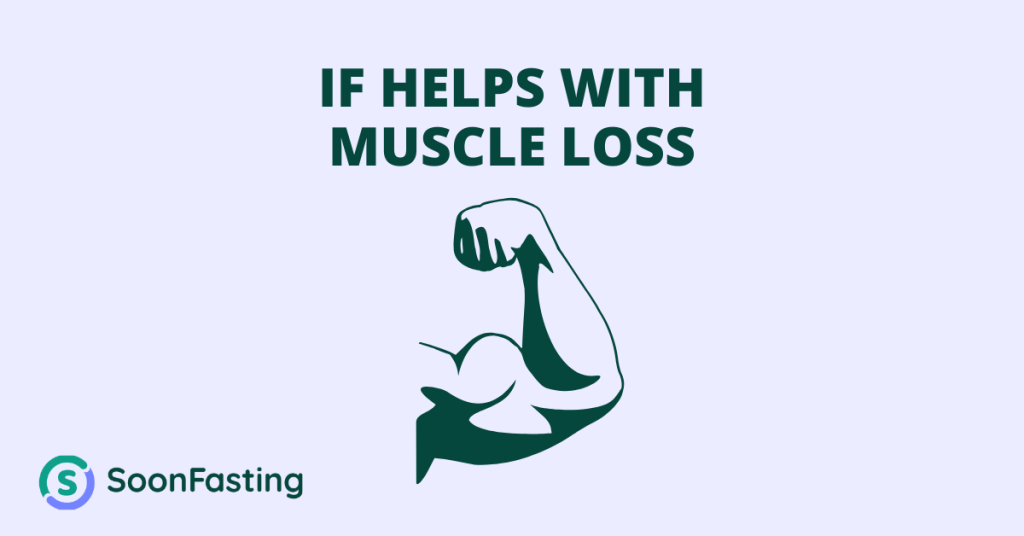 Why Does Muscle Loss Always Occur after Weight Loss?
You are aware of the conventional wisdom that eating fewer calories than you burn can help you lose weight. But even the best-laid plans might go awry if you don't take them carefully. This is due to the fact that losing weight always involves losing both muscle and fat. Muscle burns more calories than fat, so having less of it slows down metabolism and makes losing weight even more difficult.
Why You Are Losing Muscle and Not Body Fat?
Your body uses some of the energy it produces while losing weight by breaking down muscle and fat. Encouraging your body to preferentially use fat tissue while you are dieting is the best course of action. If you notice that you are primarily losing lean mass, you should adjust your weight loss plan to protect your muscles. Here are some of the most frequent causes of excessive muscle breakdown.
You keep calorie intake too low.
It's normal to wish to get rid of your excess weight as quickly as possible when you need to do so. It's a typical mistake to dramatically cut calories to encourage rapid weight loss in the haste to lose weight. The issue is that when you drastically reduce your caloric intake, your body misinterprets it as starvation and starts breaking down muscle since it needs more energy to sustain it. Basically, if you reduce your calorie intake too quickly, you'll lose muscle mass quickly.
Your protein intake isn't enough.
Contrary to popular belief, when you reduce your calorie intake, your body actually needs more protein. In order to sustain muscle under calorie restriction, it is imperative to increase your protein consumption. Healthy, young, elite athletes who were given a high-protein diet lost more weight while still preserving muscle mass than those who had a "normal" quantity of protein in their diet, according to a study that was published in 2014. In order to reduce fat, you need to be in a calorie deficit, but you should also concentrate on eating a healthy amount of protein-rich whole foods.
You are not using your muscles enough.
If you don't use it, you lose it, is a proverb that holds true when it comes to muscle loss during weight loss. Strength training with calorie restriction communicates to your body that even if you've reduced your calorie intake, your muscles are still needed and working hard. If you don't exercise while losing weight, it's as if your body decides to use part of the muscle that isn't being used for fuel since it needs more energy to sustain than fat.
So it is advisable to aim for at least 250 minutes of moderate-intensity physical activity each week for weight loss, including two to three days of strength training.
Does Intermittent Fasting Make You Lose Muscle?
The goal of almost all studies on intermittent fasting has been weight loss. It's critical to understand that when you lose weight without exercise, you typically lose both lean and fat mass. Everything that is not fat is considered lean mass, including muscle.
In fact, according to some studies, intermittent fasting may be superior to non-fasting diets for preserving lean mass while losing weight, however, more research is required in this area. Overall, it's likely that compared to other weight loss regimens, intermittent fasting won't make you lose more muscle.
What to Eat to Best Build Muscle?
Since what you eat—or don't eat—is just as important as how you work out, nutrition should be a major emphasis for you if you're serious about building muscle. Numerous nutrients, including proteins, folic acid, and vitamin B12, are shown in studies to contribute to the development and function of muscles.
Not all foods, however, are beneficial for gaining muscle. While foods heavy in protein can hasten the process of building muscle, others, such as refined carbohydrates, might not be as beneficial to your muscles. All the information you require regarding the greatest foods for muscle growth is provided below.
Eggs
Eggs are a great source of high-quality protein, wholesome fats, and other essential elements including choline and B vitamins. Amino acids comprise proteins. Leucine, an amino acid that is particularly crucial for muscle growth, is abundant in eggs. Both whole eggs and egg whites have been demonstrated to enhance muscle development, however, whole eggs may be preferable. A study published in The American Journal of Clinical Nutrition found that eating entire eggs after resistance training boosted muscle protein synthesis more effectively than doing the same with egg whites.
Chicken Breast
The fact that chicken breasts are a go-to food for building muscle is due to their high protein content. About 26.7 grams of high-quality protein are present in each 3-ounce (85-gram) meal according to the U.S. Department of Agriculture. Chicken breast may be considered dull by many people, but it may be wonderful when properly seasoned, such as with paprika or lemon pepper flavor.
Tuna
A tuna can has 42 grams of protein, which makes it a fantastic option for growing muscle. It also has a number of vitamins and minerals, including iron, magnesium, and vitamin B12, all of which promote the development of muscles. In addition, tuna has a lot of omega-3 fatty acids, which may help to maintain muscle health. For older persons, in particular, this might be crucial. Omega-3 fatty acids help delay the aging-related loss of muscle mass and strength, according to research.
Tofu
A great substitute for animal protein is tofu, a soy-based food. In addition, tofu is a fantastic source of calcium and iron, both of which help with muscle growth. Iron aids in the delivery of oxygen to the muscle cells, whereas calcium aids in healthy muscle contraction and relaxation. Soy protein supports weight loss and encourages the growth of lean muscle just as well as animal-based proteins, and even provides more cardiometabolic advantages, according to a 2015 review in the Journal of the American College of Nutrition.
Protein Powder
A great way to add protein is with protein powder. The majority of products provide between 10 and 30 grams of protein per serving, which makes protein powder a fantastic way to increase your protein storage before or after working out. Additionally, the majority of powders easily dissolve in water or milk and can be used in smoothies. In addition to whey protein and plant-based protein, protein powder is available in many different forms. You can find it online.
Other Natural Methods to Build Muscle While Losing Weight
Weight loss and muscle gain can go hand by hand. This shift in body composition, also referred to as "becoming skinny," may not be a top concern for everyone, but if understanding how to increase your muscle mass while reducing your body fat is something you're interested in, keep reading! You might believe that your only goal is to lose weight without building muscle. But did you know that a slight increase in muscle mass will raise your metabolism? You'll burn more calories when at rest if you follow this advice on how to grow lean muscle, which will make losing weight simpler.
Avoid undereating.
Avoiding undereating is the best nutritional strategy for shedding fat while maintaining muscle. Since it contradicts the narrative that the media has been giving us for far too long, it might appear counterintuitive. You'll become longer leaner, healthier, and stronger if you provide your body with enough energy with a balance of carbs, fats, and protein. This is so that our systems will believe that there is no need to hold onto extra fat reserves because proper nourishment regulates our hormones and reduces stress. So we need to eat enough in order to build muscle and reduce fat.
Do some weightlifting and HIIT training.
Do not be afraid of lifting weights. It truly plays a significant role in achieving both muscle increase and fat loss simultaneously. Regardless of whether you're performing sets of 6 or 12 reps, the weights must be so heavy that you are unable to complete more than one additional rep in each set. This is one of the most crucial recommendations to build lean muscle because pushing the boundaries of your strength necessitates your body adapting. Besides, interval training is the finest aerobic exercise for losing fat while maintaining muscle. Interval training will boost your metabolism while also assisting you in becoming speedier and more fit. You can try the HIIT training and just wait to see amazing results.
Get enough sleep.
Never compromise on your sleep if you wish to advance your physical condition. In addition to having a detrimental effect on your ability to exercise, sleep deprivation also makes it more difficult for your body to effectively repair and recover after a workout. Our immune system, cognitive function, exercise recuperation, and even insulin sensitivity all depend on getting enough sleep. You should prioritize your sleep if learning how to gain muscle and lose fat is one of your top priorities.
Maintain a healthy mindset.
The next stage is to maintain a healthy mindset once you have learned how to gain muscle and shed weight. These sustainable and healthy behaviors will help you over the long run as you use them to build lean muscle and shed fat. Enjoy your individual journey since permanent results take time and advancement is never linear. Focusing on lifestyle modifications rather than searching for a quick fix will help you achieve a lean, powerful physique that is simple to maintain over time. While significant changes in our body composition may take some time, the increases in strength and performance will happen far more quickly.
Reference: