You're starting to feel better about yourself now that you've finally lost some of those excess pounds. You feel wonderful until you notice the extra sagging skin around your tummy or the drooping loose skin around your upper arms. This is why some people obviously lose weight, but they don't have a new look.
One instance of slack skin left behind from weight loss is the skin on your upper arm, sometimes known as "bat wings". The abdomen, thighs, buttocks, and other places can also have loose skin. Faster weight loss in a short period of time can easily lead to loose skin. Your self-esteem may plummet as a result of that obstinately loose skin.
But don't worry! It can never be seen when weight is lost via intermittent fasting.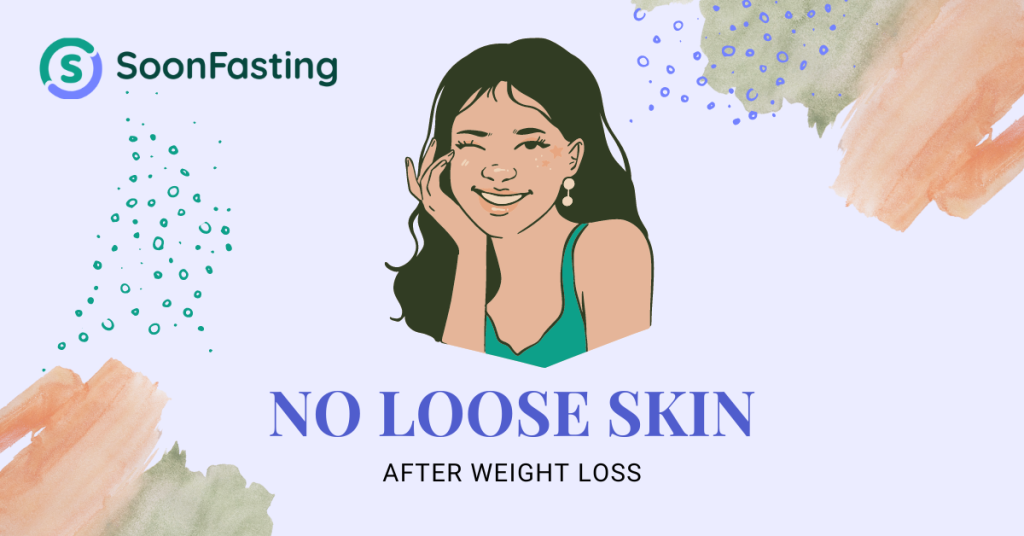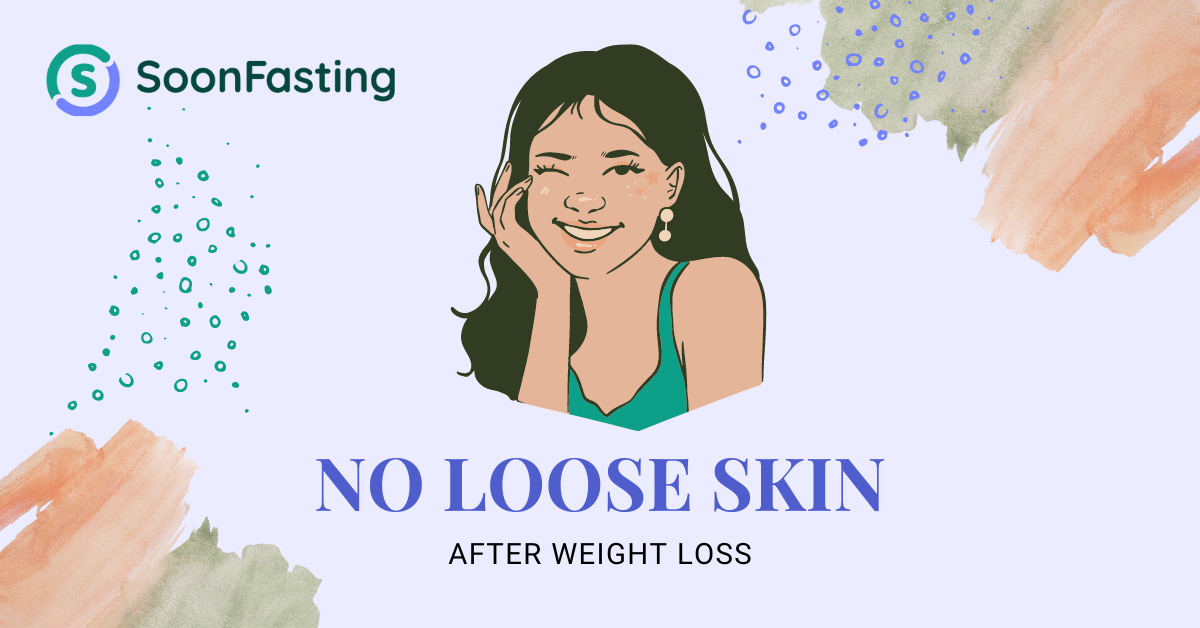 Why Does Loose Skin Always Occur after Weight Loss?
Your skin is your body's largest organ. It creates a barrier that guards against the environment. Proteins like collagen and elastin make up the skin's deepest layer. Your skin is firm and strong because of the collagen that accounts for 80% of its structure. Your skin is more elastic and stays tight thanks to elastin.
Skin enlarges when a person puts on weight to accommodate more growth. A case of this growth is pregnancy. It takes a few months for the skin to expand during pregnancy. Usually, a few months after delivery, the enlarged skin retracts. Collagen and elastin fibers, however, suffer damage when skin is considerably stretched and is left that way for a long time. They thus lose some of their capacity to retract.
As a result, extra skin may hang off the body after significant weight loss. Generally speaking, the impact of loose skin is more noticeable around the body parts where more weight loss has occurred. Furthermore, according to a study, persons who undergo weight reduction surgery produce less new collagen, and that collagen's composition is weaker than that of young, and healthy skin.
Why does Intermittent Fasting Help to Tighten Skin?
Intermittent fasting is beneficial for weight loss without easily causing loose skin.
First of all, loose skin is difficult to be seen after weight loss through intermittent fasting because of its graduality and naturality. Loose skin tends to take place when pounds are suddenly cut.
Surgery is one method of removing loose skin that has been validated by science, but it isn't always the best option for everyone. Both costly and dangerous characterize it. But fortunately, fasting and autophagy are also validated by science as ways to reduce loose skin caused by weight loss. Skin can remain elastic and adjust more quickly to lower weight when fasting and autophagy are used. Without requiring surgery, autophagy and fasting can help avoid the formation of loose skin while you lose weight, even though they don't physically eat up the excess skin.
On the one hand, intermittent fasting can promote autophagy, which is the process by which your healthy cells recycle the outdated and malfunctioning organelles back into energy. The impacts and advantages of autophagy on loose skin have been examined in a number of research. A 2014 study from Kyushu University in Fukuoka, Japan, discovered that aged fibroblasts, or cells in connective tissue that make collagen and other fibers, suffer from a deficiency in autophagy. These have steadily stopped producing collagen over time as a result of being blocked with debris and broken pieces. Skin remains tight and healthy thanks to collagen. A 2018 study that also examined the impacts of autophagy and loose skin looked at the two topics. At the Incheon St. Mary's Hospital, College of Medicine's Department of Dermatology, this study was conducted. Using transmission electron microscopy, researchers in this study looked at cutaneous fibroblasts. With the use of an electron particle beam, transmission electron microscopes (TEMs) may see their samples. The magnification power of TEMs can reach 2,000,000.
On the other hand, intermittent fasting advocates a healthy diet. It never stipulates what not to eat. Instead, it tells people that they can eat anything. Under the premise of no dietary restrictions, eating many things that are good for the skin is naturally good to keep the skin tight. In addition, fasting also allows you to drink as much water as possible, which is especially good for the skin. Water helps maintain the elasticity of your skin while also keeping your body hydrated and rejuvenated. People who drink a lot of water have a lower risk of developing scars, wrinkles, and soft lines, as well as fewer aging symptoms than those who drink little water. In a short study that was published in 2015 in Clinical, Cosmetic, and Investigational Dermatology, hydration and skin health were linked.
What to Eat to Tighten Skin
Now that intermittent fasting has been proven to be beneficial to tighten skin after weight loss, people should be aware of the food sources leading to tight skin. It's suggested to use an intermittent fasting app on the mobile that tells users what to eat and avoid for weight loss and health.
Then how can you tighten the skin after weight loss? The following nutrients are crucial for the synthesis of collagen and other elements of healthy skin:
Proteins
For healthy skin, enough protein is essential. Animal-based meals (meat, poultry, fish, eggs, and dairy products) frequently contain all the required proteins. Protein sources can be found in a lot of foods and they are all friendly with intermittent fasting.
Collagen
You might also be able to achieve your skin goals by consuming foods that are high in collagen or that encourage the creation of collagen. The following are some examples of collagen-containing foods: egg whites, berries, fish, chicken, citrus fruits, leafy greens, garlic, beans, avocados, soy, and red and yellow vegetables.
Omega-3
Omega-3 fatty acids are thought to help improve skin elasticity and have anti-aging properties. Fatty fish, fish oils, flax seeds, chia seeds, flaxseed oil, and walnuts are typical foods that are rich in Omega-3 fatty acids.
Vitamin C
Vitamin C is necessary for the synthesis of collagen and aids in sun protection for the skin. The best sources of Vitamin C are fresh vegetables and fruits, including citrus (oranges, kiwi, lemon, grapefruit), bell peppers, strawberries, tomatoes, cruciferous vegetables (broccoli, Brussels sprouts, cabbage, cauliflower), and white potatoes.
Other Natural (and Free) Methods to Tighten Skin while Losing Weight
It's crucial to practice being self-control and be aware of other elements that can enhance the health of your skin if you want to double the intermittent fasting's skin-tightening effects. By leading a lifestyle that hinders your body's ability to recover and replenish, you don't want to undo all the good things. Here are some tips to help you succeed to the fullest extent feasible.
Avoid smoking, tobacco, alcohol, and other bad foods. (Free)
When it comes to skin health, consuming alcoholic beverages, smoking cigarettes (BTW, if you're troubled by the weight gain after smoking cessation, you should learn to avoid it), or consuming toxic foods might lead to cell oxidation. As a result, autophagy's cleaning-up functions are less effective, which might harm your skin cells and cause wrinkles and sagging skin. By the way, smoking is strictly forbidden under the guide of intermittent fasting, which also contributes to the fact that it's beneficial for tight skin.
Protect the skin from UV rays.
The skin ages from UV radiation, sometimes too quickly. They're damaging, which makes your body's internal cleaning far more difficult and less efficient. Combining intermittent fasting with sun protection can help maintain the tightening process moving along at a faster rate without stopping.
Consider using humectants.
When topical products known as humectants are applied to the skin, they can be absorbed and drawn in water. One type of humectant is hyaluronic acid, which is frequently found in skin care products. Additionally, emollients like lotions and ointments aid in moisture retention by preventing fluid loss from the skin's protective outer layer.
Try skin exfoliation and add a serum.
The procedure "gets rid of dead skin and allows skin-care products to penetrate more efficiently" may seem paradoxical. Many people fear that exfoliating too frequently, which can cause skin irritation, can leave your skin excessively dry. According to the American Academy of Dermatology, skin that is red and itchy after exfoliation may indicate over-exfoliation. Discuss the best exfoliating method and schedule for your skin with your dermatologist. After exfoliation, applying a quality serum will aid in the hydration process. Neutrogena Rapid Wrinkle Repair is a "wonderful serum" with three active components: retinol, hyaluronic acid, and glycerin.
Get enough sleep. (Free)
After you fall asleep, your body enters a cleaning mode. The bulk of the work is completed at this time. While you are in a deep slumber, your body performs the essential repairs and regenerates the majority of the new cells created. To really benefit from intermittent fasting, you must also get a proper amount of sleep.
Engage in resistance training. (Can be free)
One of the best strategies to increase muscle mass in both young and elderly persons is to perform regular strength exercises. Although there isn't any research on the subject at the moment, it's feasible that building more muscle will help the appearance of loose skin.
Massage your skin. (Free)
Use your thumbs to massage your skin clockwise and counterclockwise, starting at the forehead and moving down to the chin. This activity promotes the synthesis of the protein's elastin and collagen, which both prevent and treat sagging skin. On both sides of the lips, make circular motions with your fingertips in both directions. Then massage your mouth's smirk lines upward and toward your nose's bridge using your index fingers. Start from your smile lines and move your knuckles upward toward your cheekbones. After holding the pressure at your cheekbones for a short while, move your knuckles away from your cheekbones and toward your ears. Repeat it again and again. For the eye part, start from the inner corners of the eyes and move toward the crow's feet area, gently massage the under-eye area. Only go in this direction. Repeat.
Bottom Line
Excessive loose skin is typical after significant weight loss. But fortunately, it can be changed by intermittent fasting and other natural ways.
The skin's deepest layer is composed of proteins like collagen and elastin. However, when skin is severely stretched and is left that way for an extended period of time, collagen and elastin fibers are damaged. Consequently, after weight loss excess skin may protrude from the body.
Intermittent fasting can contribute to the recovery of loose skin from weight loss. On the one hand, intermittent fasting can encourage autophagy, which is the mechanism by which your healthy cells recycle the old. Intermittent fasting, on the other hand, promotes a balanced diet.
Except for the nutrients like collagen, omega 3, and vitamin C, there are also some other natural ways to tighten your skin. For example, avoid consuming alcohol and tobacco, maintain a cleansing and moisturizing skincare routine, get plenty of sleep, and also develop a healthy exercise plan.
References: