If you like tacos, burritos, or other Tex-Mex-themed food, Del Taco is a popular option. You can put together an entire supper there for less than $5, and the restaurant also serves quick fare like burgers, fries, and ice cream shakes. In addition to flour and corn tortillas, salsa, guacamole, and queso are just a few of the typical Mexican foods that can be found on the Del Taco menu. Spicy meat and poultry are also available. These foods could be heavy in calories, salt, and carbohydrates. By understanding how these components are handled and your options, you may design a meal at Del Taco that satisfies your specific dietary requirements and tastes.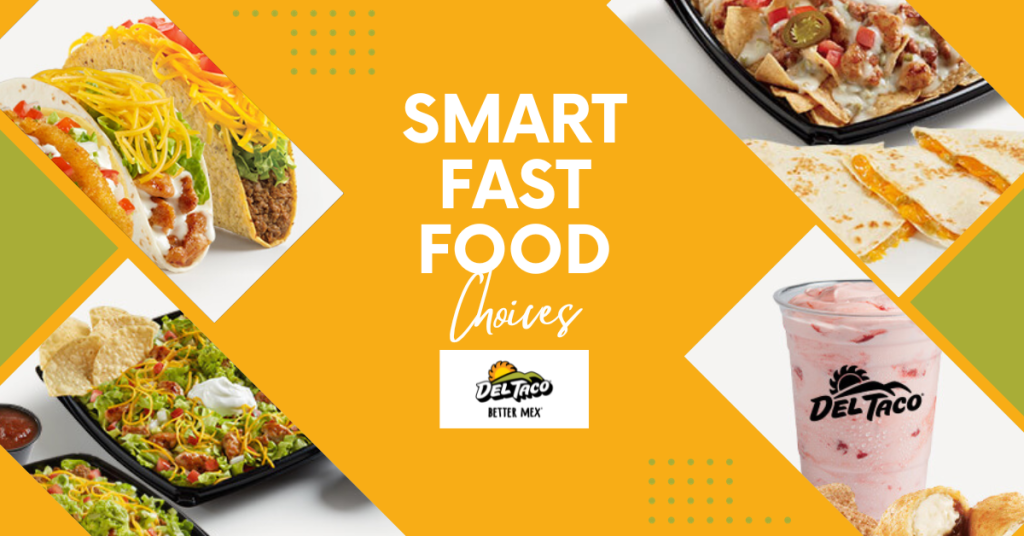 Del Taco's Nutritional Information
There are various options at Del Taco, including a vegetarian section of the menu, that offer a filling combination of high-fiber carbs, protein, and fat. There aren't many ways to include vegetables in a meal outside salads. If you frequently eat here, attempt to balance your intake by eating meals throughout the day that are high in vegetables and low in sodium.
Here's a closer look at the nutrient content of the Del Taco menu. You can use the details offered by the business' website to learn more about the nutrition data, ingredients, food preparation methods, and any food allergens. Please check the website for your location since menu items may change by region.
Make Smart Food Choices While Eating Out at Del Taco
Tacos
Tacos and tostadas from Del Taco come in more than ten different varieties. Tacos can be among the most or least calorie-dense options on the Del Taco menu, depending on the type of shell you choose and what you choose to put inside. The soft flatbread, which adds an additional 100 to 200 processed, high-carb calories, should generally be avoided in favor of the crispy taco shells.
Select Chicken Taco Del Carbon with 110 calories, 3.5g fat, 30mg cholesterol, 300mg sodium, and 0g sugars.
Avoid SQT – Crispy Chicken Taco with 450 calories, 24g fat, 70mg cholesterol, 1130mg sodium, and 2g sugars.
Salads
Del Taco provides four different taco salad varieties, each with a unique protein theme. The salads can be fatty because of the cheese, sour cream, and tortilla chips. However, compared to certain other menu items, they offer more vegetables.
Select Taco Salad with Fresh Guac (Grilled Chicken) with 420 calories, 26g fat, 115mg cholesterol, 1270mg sodium, and 7g sugars.
Avoid Taco Salad with Fresh Guac (Seasoned Beef) with 510 calories, 34g fat, 110mg cholesterol, 1320mg sodium, and 9g sugars.
Nachos & Chips
Tex-Mex restaurants often feature nachos on their menus, but the crunchy, salty favorite may not be the healthiest choice. Nachos can include a lot of sodium, calories, fat, and carbs because they are covered in cheese, meat, and sauces. However, you may prepare a more wholesome, snack-sized version of the chip dish thanks to Del Taco's menu items' great degree of customizability.
Select Chips & Fresh House-made Guac (Snack-sized) with 170 calories, 11g fat, 0mg cholesterol, 190mg sodium, and 1g sugars.
Avoid Queso Loaded Nachos (Seasoned Beef) with 1030 calories, 54g fat, 100mg cholesterol, 2580mg sodium, and 8g sugars.
Burritos
Del Taco offers a variety of burritos, from the low-calorie, low-fat cheese, and chicken rollers to the substantial "Epic" burritos stuffed with rice, rich sauces, and a ton of meat. Burritos can be a respectable supper option if the fillings are properly chosen, especially if you share an order or freeze half of it for later.
Select Chicken Cheddar Roller (Original) with 250 calories, 9g fat, 40mg cholesterol, 750mg sodium, and 0g sugars.
Avoid Epic Cali Bacon Burrito (Carne Asada Steak) with 1050 calories, 60g fat, 155mg cholesterol, 2600mg sodium, and 4g sugars.
Burgers & fries
The few fast-food burgers on Del Taco's main menu, like the majority of them, include a lot of calories and fat. Look at the kid's menu if you want a traditional fast-food meal like a burger and fries that have fewer calories.
Select Crinkle Cut Fries (Small) with 160 calories, 10g fat, 0mg cholesterol, 190mg sodium, and 0g sugars.
Avoid NEW Shredded Pork Carnitas Fries with 800 calories, 60g fat, 90mg cholesterol, 990mg sodium, and 1g sugars.
Breakfast
Avoiding processed meat fillings like sausage, bacon, and chorizo when ordering breakfast at a fast-food drive-through is typically the wisest course of action. At Del Taco, you may choose from straightforward breakfast burritos with eggs and cheese or "rollers," which are thin, tightly folded tortillas stuffed with eggs, cheese, and red sauce.
Select Double Cheese Breakfast Taco (Egg & Cheese) with 180 calories, 9g fat, 120mg cholesterol, 480mg sodium, and 1g sugar.
Avoid Breakfast Burrito (Bacon) with 520 calories, 26g fat, 275mg cholesterol, 1540mg sodium, and 0g sugars.
Shakes & desserts
Churros, cheesecake pieces, and standard and tiny milkshakes are all available at Del Taco. Some offer flavors with Mexican influences, including horchata.
Select Mini Cinnamon Churros (2 Pc.) with 200 calories, 10g fat, 15mg cholesterol, 125mg sodium, and 8g sugars.
Avoid Large Shake (Chocolate) with 880 calories, 13g fat, 50mg cholesterol, 540mg sodium, and 134g sugars.
Drinks
Like most fast-food establishments, Del Taco sells bottled water, which is always the healthiest beverage option. A popular for breakfast, a cup of black coffee doesn't add any calories or fat to your meal.
Select Gold Peak Real Brewed Tea with 0 calories, 0g fat, 0mg cholesterol, 0mg sodium, and 0g sugars.
Avoid Mello Yello® (Macho) with 390 calories, 0g fat, 0mg cholesterol, 125mg sodium, and 109g sugars.
Last Word
Del Taco offers traditional dishes like tacos, burritos, nachos, and quesadillas that you can easily modify, just like other fast-food restaurants with a Mexican theme. Burgers, fries, shakes, and a few salads are also available, along with other classic American fast-food items. But the majority of these choices are heavy in sugar, sodium, fat, and calories. Del Taco has a variety of filling items you can utilize to create a fast food meal or snack that is part of a balanced diet, so long as you keep track of portions and comprehend the nutritional information.
References