I am Stephanie. I was not a fanatic about health before I had a baby, but things have changed since then.
I was overweight and struggling to lose weight. There are many things that I couldn't do because I'm overweight. It's hard to look after my kid. And I noticed that I became more irritable and stressed since I got too much weight during pregnancy.
For my kid and health, I have tried many ways to lose weight.
Keto, Atkins, Paleo, or even dieting… All of these didn't work.
Those diets need a lot of effort to prepare with the food restrictions. It's difficult to follow these diets as well as look after my kids. And the restriction is not realistic for me to follow in the long run, I needed something simple to manage.
Dieting programs and diet pills made me annoyed.
Some programs have too much commitment and restriction, and some are too general and don't fit me at all. I spent a fortune on these expensive plans, but achieve nothing.
I had tried many weight-loss drugs as well. Before I saw the weight scale change, some other effects came to me first. I had suffered a lot from headaches, constipation, and thirst.
Exercising brings hurt in rather than taking fat away.
Exercising not only made me lose weight with sweat, but also with tears. I always felt pain since following the training plan. But the fat didn't go away with my sweat and tear. Even if it happened, the fat would creep back on a few weeks later.
I know that many people still struggle to lose weight nowadays. Luckily I have found the best way and I want to share three important lessons I have learned with intermittent fasting to help you avoid detours in weight loss.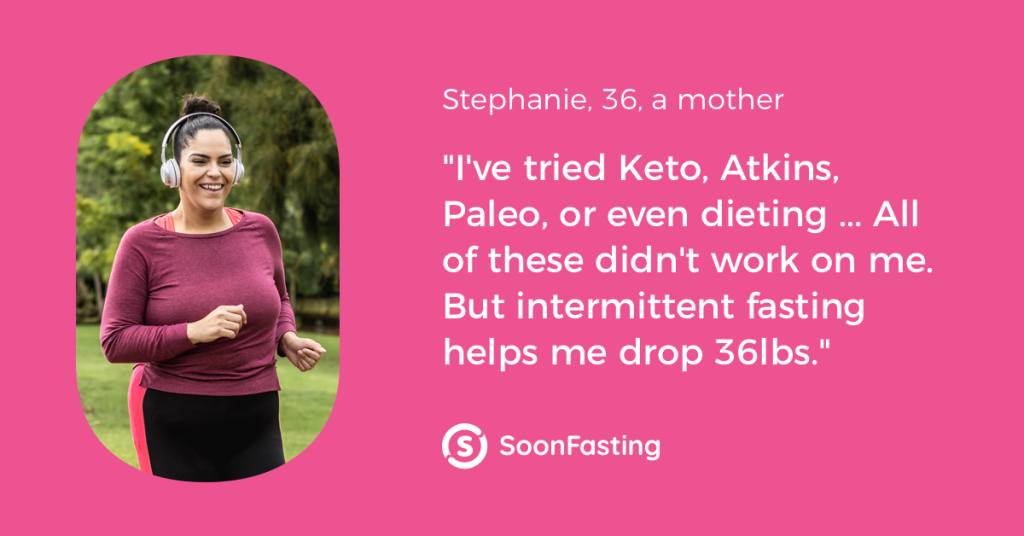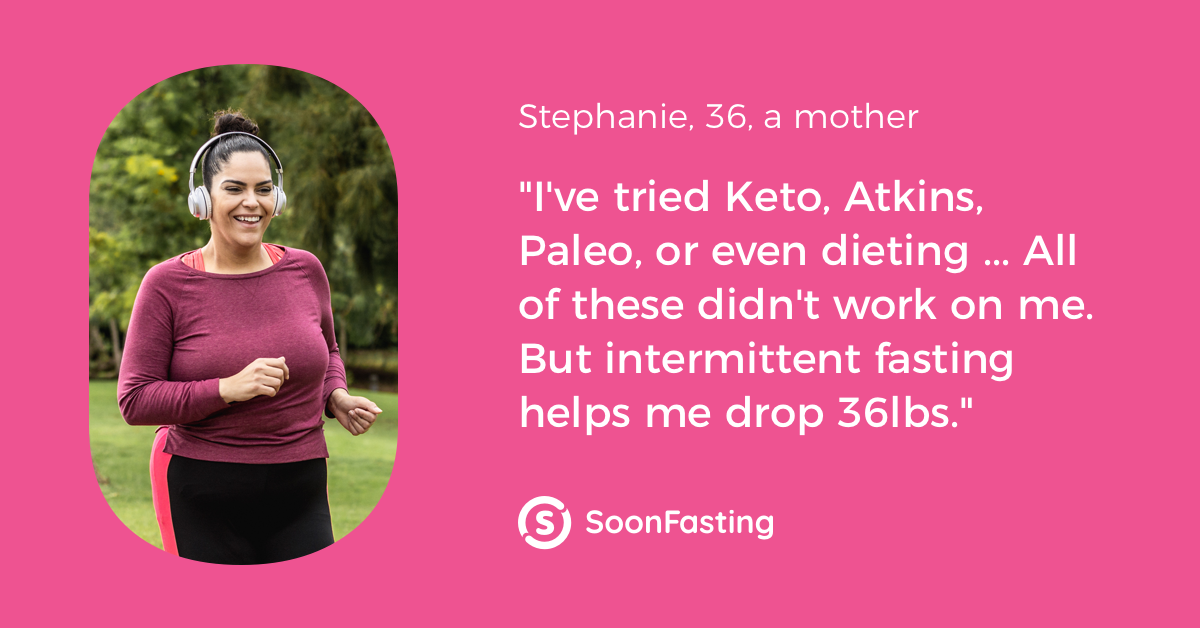 Lesson#1. I only need to focus on the time during intermittent fasting.
I had made great preparations when I first started fasting. I thought I need to say goodbye to my favorite food again, just like the other weight loss ways I had tried.
But I was wrong. Intermittent fasting is not that difficult and sophisticated. You don't need to take extra time for intermittent fasting. You just pick a plan matching your life schedule. That's it.
I only have to focus on one thing – WHEN to EAT.
Yes, it's so simple. When I started with the 16:8 fasting plan, I only have to decide when to eat and when to fast. Because I had to have dinner with my baby at 6 p.m., I choose to start fasting at 8 p.m. and eat at 12 p.m.
What makes me more surprised is that I don't need to deprive myself of delicious food.
I felt a little bit of hunger and my coach on SoonFasting told me that it was normal for the first days. And I gradually got used to it and felt no hunger later.
After the first month, I lost 5 pounds and saw progress.
I am so delighted about the weight loss on the scale every morning.
Personal coaching, track tools, fasting knowledge, and recipes all help me to reach my fasting goals. The SoonFasting makes everything easier for me. I can look after my child and do family work as usual.
The change gave me more pleasure and motivation to keep going on with fasting.
Lesson#2. Food choices are important.
Intermittent fasting works. But food choices can make further improvements.
I still lose weight when I have my favorite foods during the eating window after my first fast. But I was not satisfied and wanted to do better.
The coach suggested I swap out some of what I ate for healthier food and she listed some choices for me to follow. She said a healthy diet can help me avoid the issues that often occur after weight loss like loose skin. That's what I never get from other methods or products to drop pounds.
I started having healthy food in my daily diet. And I found it's not that difficult to make better food choices.
With family and friends, I still enjoy the party food.
Indulging in my favorite foods once in a while will not affect my fasting and will not make me feel guilty anymore.
Lesson#3. Losing weight ≠ dieting
Through so many years of struggling to lose weight, I learned the most that losing weight is NOT dieting.
I want to lose weight because of the desire for a healthy life, but dieting always leads to a backfire effect, although it could make you slimmer.
Many people think that healthy life needs strict self-discipline in eating and exercising, but fasting has given me a new better understanding of life.
There is no restriction on what you eat during the eating window and a piece of cake occasionally will not affect your weight loss goal.
Intermittent fasting is more like a kind of lifestyle for me.
Cravings haunted me in the first few days during the fasting window but never disturb me since I got accustomed to the fasting lifestyle.
I felt that many other things had improved me more than weight loss. I feel more energetic during the daytime and at night I sleep better.
I became more confident and enjoy looking in mirrors again. I'm very happy and proud to see the changes.
I am so regretful that I have not discovered the intermittent fasting approach and the SOON app sooner.
Are fasting and SoonFasting useful for everyone?
I don't know. But I believe you will get the answer after you really practice it.
I have dropped 36 pounds with intermittent fasting and the SoonFasting app. I cannot promise that they will be effective for everyone. But it's different from what I have tried before.