You should visit this fast food joint, also known as Carl's Jr. or Hardee's, if you're in the mood for a substantial, meaty, gut-busting charbroiled burger. With its extraordinarily thick buns, rich milkshakes, and salty sides, Carl's Jr.'s menu is far from being a source of nutrient-dense cuisine. The menu does have a few pleasantly surprising choices that won't completely break your diet, though. In addition to providing a list of all the red flags to look out for, we also carefully chose the best products to order. Focus on making the right decisions with the help of this article.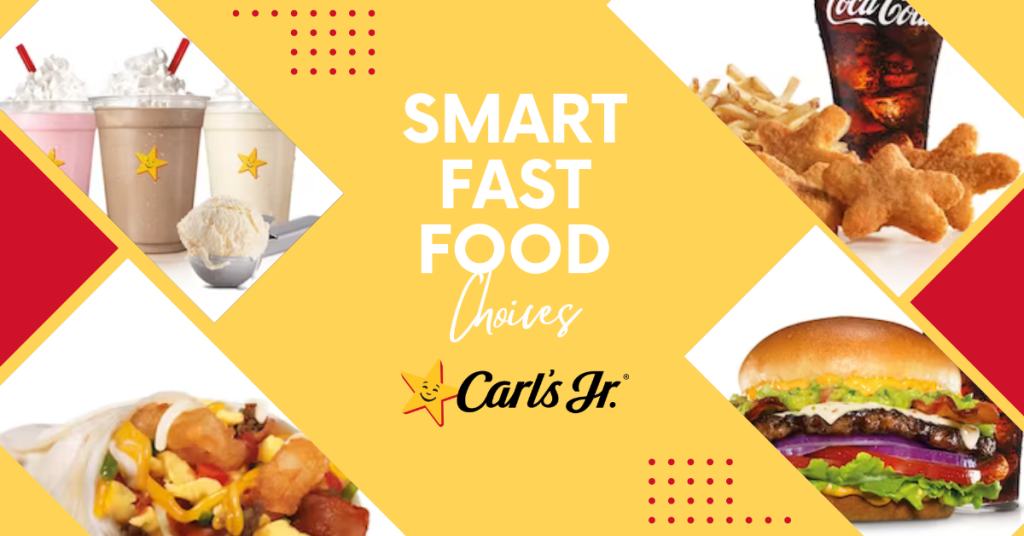 CARL's JR.'s Nutritional Information
Knowing what goes into your body when consuming fast food is crucial. CARL's Jr. makes it simpler for you to make wise eating decisions by offering a wealth of nutritional data on their website. You can visit here to find the details you need.
The Teriyaki Burger and the Big Carl are two of the most well-liked new Carl's Jr. menu offerings. The fish sandwich, CrissCut fries, and the Western Bacon Cheeseburger are other delicious Carl's Jr. menu items. Not to mention, the breakfast menu at Carl's Jr. includes some outstanding choices as well.
Also, the Carl's Jr. chain is pleased to state that it has never prepared food in Thailand using partially hydrogenated oils (PHO). This conforms to the Ministry of Public Health's prohibition against the use of PHO in any form.
Make Smart Food Choices While Eating Out at CARL's JR.
Breakfast
The Carl's Jr. breakfast menu includes a plethora of delectable and sweet goodies, with the majority being extravagant, outrageous, and highly appealing. There are many different breakfast options, plus coffee, so there is something for every appetite and taste.
Select Small hush rounds with 260 calories, 160g fat, 0 mg cholesterol, 320mg sodium, and 1g sugars.
Avoid Monster biscuit with 830 calories, 56g fat, 460mg cholesterol, 2420mg sodium, and 5g sugars.
Charbroiled burgers
In spite of the fact that Carl's Jr. began as a hotdog stand, its burgers are its specialty. The restaurant takes pleasure in serving top-quality steak, fresh vegetables, buns, and cheese if you so like.
Select Doubled cheeseburger with 380 calories, 21g fat, 60 mg cholesterol, 750mg sodium, and 6g sugars.
Avoid Double Guacamole Bacon Angus Burger with 1340 calories, 93g fat, 265mg cholesterol, 2300mg sodium, and 13g sugars.
Chicken sandwiches & tenders
A buttermilk-dipped, sparingly breaded, and deep-fried chicken breast fillet is the main component of Carl's Jr.'s Hand-Breaded Chicken Sandwich. On a toasted potato bread, the fillet is served with mayonnaise, garlic pickles, and pickles. The chicken tenders at Carl's Jr. are distinctive in a number of ways. Each chicken finger is manually breaded and there are no portions of chicken meat in Carl's chicken fingers; they are all-white-meat, single pieces of meat.
Select Hand-Breaded Chicken Tender 3 pcs with 260 calories, 13g fat, 70 mg cholesterol, 770mg sodium, and 0g sugars.
Avoid Hand-Breaded Bacon Swiss Chicken Sandwich with 780 calories, 42g fat, 120mg cholesterol, 3100mg sodium, and 8g sugars.
Sides
In addition to the uncommon seasonal or local alternative, Carl's serves a variety of traditional sides. These options could go well with family-style meals, but you could also put up a healthy lunch using the smaller servings.
Select Natural-Cut Fries (Kids) with 240 calories, 12g fat, 0 mg cholesterol, 480mg sodium, and 0g sugars.
Avoid Jalapeno POPPERS® Bites 9 pcs with 750 calories, 51g fat, 50mg cholesterol, 2070mg sodium, and 8g sugars.
Desserts
Carl's Jr. is a restaurant known for its burgers, but they also do everything else on the menu quite well. The desserts of Carl's Jr. are delicious although there are only four options on the menu.
Select Chocolate Chip Cookie with 170 calories, 9g fat, 0 mg cholesterol, 160mg sodium, and 13g sugars.
Avoid Cinnamon Roll with 520 calories, 16g fat, 0mg cholesterol, 1060mg sodium, and 57g sugars.
Beverages
Carl's Jr. offers a variety of beverages including classical cola, root beer, fruit tea, lemonade, coffee, iced tea, and others. Almost every option have small, medium, and large size. And for your health and the purpose of losing weight, it is wise for you to drink only water while at Carl's Jr.
Select Unsweetened Iced Tea (12 oz) with 0 calories, 0g fat, 0 mg cholesterol, 8mg sodium, and 0g sugars.
Avoid Dr Pepper® (32 oz) with 352 calories, 0g fat, 0mg cholesterol, 108mg sodium, and 95g sugars.
Last Word
Here is a list of the top recommendations and foods you should avoid from Carl's Jr. menu items for weight loss and health, and almost anything you order from Carl's can be great and full.
One thing that you should keep in mind is that you should phone ahead or check the restaurant's website for its hours because not all Carl's open and close at the same times, nor do all eateries open at the same time every day. That being said if you're hungry, Carl's Jr.'s best meal will more than fill you up!
References: