Culver's is a hidden treasure of a fast-food restaurant from the Midwest that pleases both your sweet and savory taste buds. The crowd-pleaser serves you traditional American fare like cheeseburgers, onion rings, and chicken tenders along with mouthwatering milkshakes, frozen custards, and floats. While tucking into their renowned Butter Burgers and melt-in-your-mouth custards are unquestionably delectable options, it is reasonable to assume that they aren't the healthiest.
However, eating at Culver's does not have to completely destroy your diet. You can choose wisely and prevent overconsumption of calories, sodium, fat, and sugar by ordering some of the healthier meal options on the menu. We now list the best and unhealthiest dishes on Culver's menu for weight loss and health so you may make better choices.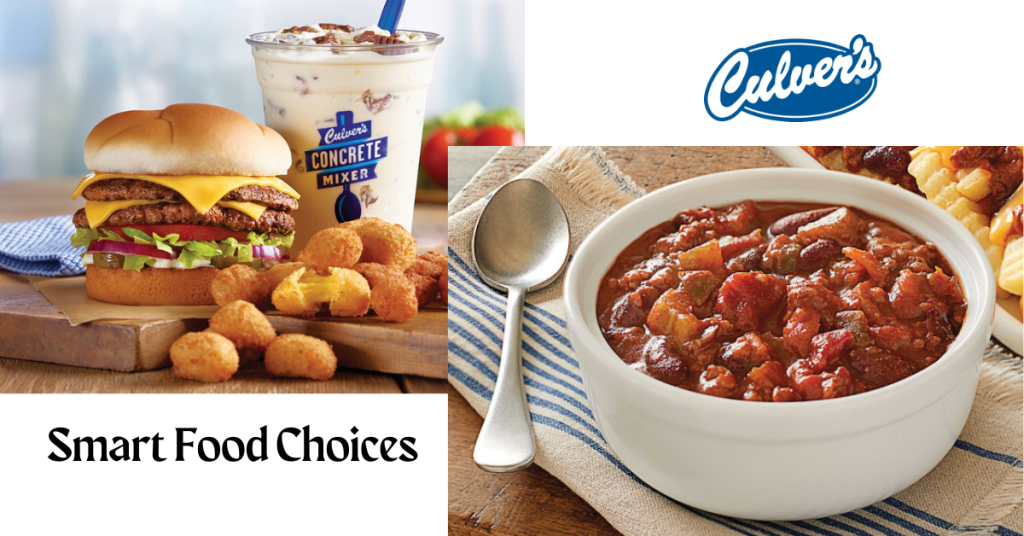 Culver's Nutritional Information
Craig Culver frequently states, "We never compromise on quality." It's a commitment that starts with choosing the best ingredients and extends to how they make your meal—fresh, just for you. They only ever use fresh, never frozen beef and entire, white flesh chicken from American family farms because of this. Dairy from more than 100 family farms in Wisconsin is used to make Culver's fresh frozen custard. The frozen custard is wonderful and made in small batches that are slowly churned throughout the day.
However, it's still wise for you to be careful about the menu and the nutritional information about the foods at Culver's. Here is the list of the nutrition and allergen guides from Culver's.
Make Smart Food Choices While Eating Out at Culver's
Butter Burgers
Every Butter Burger at Culver's is produced with fresh beef that is never frozen, and it is always seared just when you order it. Next, a toasted bun with butter is placed on top of it. You can order your favorite in a Single, Double, or Triple and Culver's will build the perfect one for you!
Select Butter Burger, Single with 390 calories, 17g fat, 55mg cholesterol, 480mg sodium, and 6g sugars.
Avoid Pepper Grinder Pub Burger, Triple with 1130 calories, 75g fat, 220mg cholesterol, 1390mg sodium, and 5g sugars.
Chicken & Sandwiches
Whole white flesh chicken breast is used to make the Chicken Sandwich. It is Finished with a homemade Southern-style breading that contains onion, garlic, and a dash of cayenne, served on a toasted Kaiser bun with crisp lettuce, ripe tomato, and pickles. More importantly, it is guaranteed to be exterior crispy inside juicy, and tender.
Select Original Chicken Tenders, 1 Piece with 140 calories, 6g fat, 25mg cholesterol, 460mg sodium, and <1g sugars.
Avoid Buffalo Chicken Tenders, 8 Piece with 1080 calories, 56g fat, 220mg cholesterol, 3840mg sodium, and 0g sugars.
Seafood & Salads
Check out Culver's fresh-made, crisp, colorful mixed green salads and other seafood favorites like North Atlantic Cod and Butterfly Jumbo Shrimp.
Select Butterfly Jumbo Shrimp, 3 Pieces with 220 calories, 9g fat, 30mg cholesterol, 930mg sodium, and 7g sugars.
Avoid North Atlantic Cod Dinner, 3 Pieces with 1700 calories, 111g fat, 230mg cholesterol, 1930mg sodium, and 18g sugars.
Sides
The Sides menu at Culver's is one of the most well-liked menus. At Culver's, the Sides menu should not be missed. Crinkle Cut Fries, Cole Slaw, Mashed Potatoes, Side Salad, Onion Rings, Chilli Cheddar Fries, and Cheese Curds are some of the menu items offered by Culver's Sides in the United States.
Select Steamed Broccoli with 40 calories, 0g fat, 0mg cholesterol, 40mg sodium, and 2g sugars.
Avoid Wisconsin Cheese Curds, Family with 1530 calories, 75g fat, 165mg cholesterol, 3690mg sodium, and 12g sugars.
Drinks
At Culver's, there are not many drinks on offer, including apple juice, white milk, and chocolate milk.
Select Mott's® 100% Apple Juice with 100 calories, 0g fat, 0mg cholesterol, 10mg sodium, and 23g sugars.
Avoid Chocolate Milk with 160 calories, 2.5g fat, 15mg cholesterol, 220mg sodium, and 26g sugars.
Fresh frozen custard
Consider frozen custard the most upscale dessert you've ever had. It is richer and denser than typical ice cream due to the farm-fresh dairy and creamy, luscious ingredients. Additionally, you really enjoy the flavor longer because it is delivered at a temperature that won't freeze your taste receptors.
Select Create Your Own Dish, 1 Scoop with 310 calories, 19g fat, 115mg cholesterol, 85mg sodium, and 27g sugars.
Avoid Turtle Sundae, 3 Scoop with 1330 calories, 73g fat, 285mg cholesterol, 610mg sodium, and 119g sugars.
Sauces, Dressings & Condiments
Sauces, dressings, and condiments are well-liked at Culver's, which can be various and delicious for most people to choose from.
Select Black Pepper Packet or Malt Vinegar with 0 calories, 0g fat, 0mg cholesterol, 0mg sodium, and 0g sugars.
Avoid Tartar Sauce Cup with 360 calories, 39g fat, 30mg cholesterol, 340mg sodium, and 2g sugars.
Last Word
In fact, in order to promote choice and eliminate the erroneous belief that eating at Culver's is not a healthy option, the company, which has been at the forefront of nutritional transparency for more than ten years, has created a community-based "Mindful Choices" program. To do this, Mindful Choices promotes some of Culver's healthier menu items, including whole-meal examples that are under 500 calories. So, if you are interested in this program, you can search more online. Always remember to choose the low-calorie food if you really don't know what to eat at Culver's.
References