It is not surprising that there are 1,170 Firehouse Subs outlets spread across 46 states given that the sub store is a favorite with sandwich and lunch enthusiasts both. The Dalmation Dog was the very first item on the menu, but they now focus primarily on filling sandwiches with conventional sides. Customers at this fast-casual setting have a choice between ordering a specialty sub sandwich with predetermined toppings or building their own sandwich by selecting the protein, bread type, and sandwich toppings. You can match your main course with a side like potato chips or macaroni and cheese at some restaurants, which also serve salads, sandwiches, and soups.
Firehouse Subs can accommodate a variety of picky palates and diets because it offers some wholesome, low-calorie meals and gives you complete control over your order. However, the majority of menu items include a lot of sodium.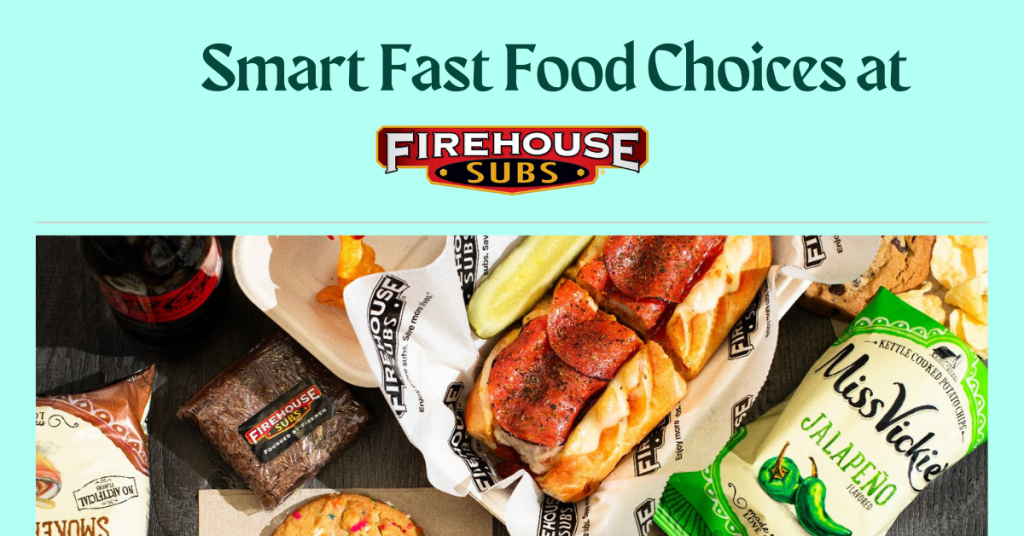 Firehouse Subs's Nutritional Information
With selections like gourmet subs and macaroni & cheese, Firehouse Subs is all about comfort cuisine. You should only stop here sometimes unless you are eating a salad (which still has too much sodium). Alternately, practice mindful decision-making by consuming fewer portions of lean meats like grilled chicken and roast turkey or the vegetarian sub.
Here's a closer look at the Firehouse Subs' nutritional profile. The information provided on the company website can be used to learn more about the nutritional information, ingredients, food preparation techniques, and any food allergens. Please verify the menu items on the website for your area as they may vary by region.
Make Smart Food Choices While Eating Out at Firehouse Subs
Hot Specialty Subs
The Smokehouse Beef and Cheddar Brisket Sub, the Meatball Sub with Hot Marinara Sauce and the Italian Sub with Italian Seasonings and Meats are some of the hot specialty sub sandwiches at Firehouse Subs.
Select Engineer – Small with 350 calories, 18g fat, 35mg cholesterol, 1150mg sodium, and 5g sugars.
Avoid Smokehouse Beef & Cheddar Brisket – Large with 1510 calories, 102g fat, 195mg cholesterol, 2980mg sodium, and 22g sugars.
Single Meat Subs
The leanest cuts of deli meat, such as turkey, chicken breast, slim gammon or roast beef, are the best choices if you're seeking the healthiest lunch meat option. And Firehouse Subs offers these single meat subs.
Select Turkey – Small with 340 calories, 17g fat, 30mg cholesterol, 1120mg sodium, and 5g sugars.
Avoid Chicken Breast – Large with 1180 calories, 56g fat, 205mg cholesterol, 3290mg sodium, and 9g sugars.
Chopped Salads
There are three salad options available at Firehouse Subs: the well-known Firehouse Salad with pepperoncini, the Italian Grilled Chicken Salad with salami, and the Hook & Ladder Salad with smoked turkey breast and ham.
Select Firehouse Chopped Side Salad with 60 calories, 3g fat, 0mg cholesterol, 10mg sodium, and 2g sugars.
Avoid Italian Chopped Salad with Grilled Chicken Salad with 410 calories, 22g fat, 115mg cholesterol, 1580mg sodium, and 5g sugars.
Soups
You can supplement your sub with a side of soup or chili at some restaurants to make a heartier meal.
Select Chicken Noodle Soup, 10 oz with 120 calories, 2g fat, 30mg cholesterol, 1030mg sodium, and 3g sugars.
Avoid Loaded Potato Soup, 10 oz with 380 calories, 29g fat, 60mg cholesterol, 1390mg sodium, and 0g sugars.
Sides & Chips
Sides and chips are always the popular foods of fast food. A warm side can help to balance your palate, especially with a chilly sub. But remember to control the portion.
Select Pickle Spear with 5 calories, 0g fat, 0mg cholesterol, 240mg sodium, and 0g sugars.
Avoid Brownie with 430 calories, 20g fat, 75mg cholesterol, 240mg sodium, and 38g sugars.
Beverages
Firehouse Subs offers a lot of drinks, including beer, diet coke, vanilla, juice, tea, lemonade, and so on, which can make you dazzling. What you drink actually makes a difference in your goal of keeping a healthy diet and life.
Select Diet Coke, coke zero, Dasani, Fanta Zero, unsweetened tea, Mello Yello Zero, or POWERade Zero with 0 calories, 0g fat, 0mg cholesterol, 0mg sodium, and 0g sugars.
Avoid Hi-C Fruit Punch with 650 calories, 0g fat, 0mg cholesterol, 0mg sodium, and 166g sugars.
Last Word
Firehouse Subs is a great place to eat if flavor is more important to you than good nutrition. Their medium to high calorie, high fat, and sodium content levels, however, make them less than entirely healthful. However, you have complete control over your order's toppings, amount of protein, carbohydrates, and dairy thanks to Firehouse Subs' extensive customization options. You may also avoid food allergens thanks to the useful interactive nutrition and allergen menu, which lets you see what you are eating. When you have complete control over the protein, toppings, and dietary components of your meal, enjoying your favorite subs is simple.
References