You need look no further than Pizza Hut if you're seeking a fast-food establishment that serves delectable meals on the go. They have you covered with everything from delicious pasta meals and cheese-topped pizza to crispy wings and sumptuous desserts. Pizza Hut is undoubtedly a crowd favorite because of its crunchy dough, tasty toppings, and enticing sauces. No matter if you prefer the traditional pepperoni pizza or the meat-lovers selections, Pizza Hut provides a ready-made pizza in a matter of minutes.
Pizza Hut probably isn't your go-to takeaway option when you're trying to eat healthy. Don't worry, though, if that is your only choice in a given circumstance. Any of your favorite foods can be incorporated into your diet with a little portion control. The alternatives for Pizza Hut meals that are low in calories and also should be avoided if possible are shown below.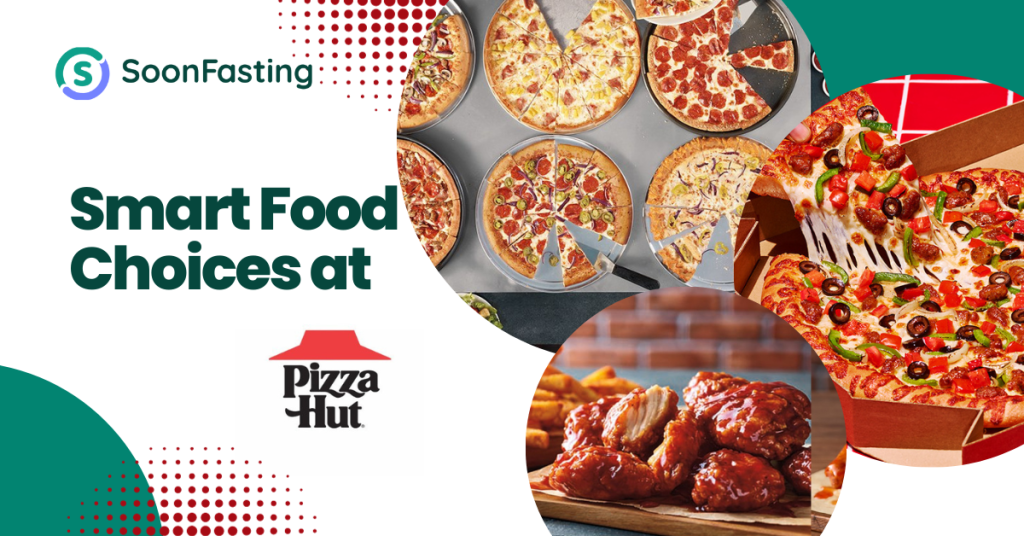 Pizza Hut's Nutritional Information
In addition to its signature pizzas, Pizza Hut also offers a wide variety of other foods on its menu, such as salads, pasta, chicken wings, and even desserts. Like when dining out generally, Pizza Hut requires that you take portion size into account. The nutritional data for Pizza Hut products is available online, or you may use an online nutrition calculator. Think about how much each type of pizza serves. In addition to several gluten-free options, Pizza Hut offers meals that are appropriate for plant-based diets. If you order at Pizza Hut with nutrition information and serving sizes in mind, you can choose a healthy meal.
Make Smart Food Choices While Eating Out at Pizza Hut
Pan pizza
Not feeling sharing today? Since it's simple to regulate portions, a personal pan pizza is a somewhat healthy option. Don't forget about the additional fat, sodium, and carbohydrates that come from your choice of dough, sauce, toppings, and other extras while keeping an eye on the quantity of your pizza to stay inside your calorie goal.
Select Veggie Feast (Personal) with 157.93 calories, 4.26g fat, 0.22g sodium, and <0.5g sugars.
Avoid Chicken Tikka Pizza (Medium) with 336.95 calories, 13.8g fat, 0.84g sodium, and 4.21g sugars.
San Francisco handcrafted style pizza
According to Pizza Hut, years of research and development have gone into creating a pizza crust that is crisp on the exterior and light and airy on the inside. This is accomplished by employing sourdough that has undergone a protracted fermentation process to make the new Hand-crafted San Francisco-style pizza fresh every day.
Select Margherita (Medium) with 189.23 calories, 6g fat, 0.36g sodium, and 1.49g sugars.
Avoid Chicken Tikka Pizza (Medium) with 306.06 calories, 13.44g fat, 0.89g sodium, and 2.72g sugars.
Sides
Pizza Hut offers a variety of sides, most of which are carb-heavy favorites like French fries, garlic bread or knots, and cheesy breadsticks with dipping sauce. It is worth noting that salad is the wise choice for people who want to lose weight.
Select Cream of mushroom soup with 79.2 calories, 2.4g fat, 0.74g sodium, and < 0.1g sugars.
Avoid Creamy mushroom pasta with 941.5 calories, 48.264g fat, 1.810g sodium, and 6.9g sugars.
Dessert
Depending on the region, Pizza Hut's dessert menu often offers a number of high-calorie, sugary delights, some of which may be surprising for a pizza restaurant. One of the chain's most well-liked confections, little cinnamon rolls with cream cheese frosting, was inspired by its collaboration with Cinnabon.
Select Hut chocolate fudge (Personal) with 267 calories, 5.75g fat, 0.07g sodium, and 7.11g sugars.
Avoid Choco chip cookie sundae (Regular) with 918.72 calories, 40.83g fat, 0.39g sodium, and 35.96g sugars.
Beverages
You can choose from a variety of Pepsi fountain drinks at Pizza Hut if you're dining in. Additionally, many places have a variety of beer and wine. Soda comes in liter bottles if you're getting your meal to go.
Select Diet Pepsi with 0.3 calories, 0g fat, 0g sodium, and 0g sugars.
Avoid Belgian Chocolate Shake with 545.16 calories, 24.81g fat, 0.23g sodium, and 30.34g sugars.
Last Word
The Deep Pan pizza, huge salad bar, and renowned Ice Cream Factory are Pizza Hut's most well-known features as an American restaurant chain. It was first formed in the UK over 40 years ago, and today the business offers even more choices with Low Cal Flatbreads, as well as specific vegan and gluten-free menus. Pizza lovers will find this to be a utopia. But there is still something you should take into consideration if you want to lead a healthy life and maybe lose weight.
In fact, you may easily construct a pie that suits your dietary requirements and tastes thanks to Pizza Hut's completely customized menu. In many places, you can even get pizza with a gluten-free crust. The calories, fat, and sodium content of larger quantities of pizza, pasta, and sides can be significant. It's feasible to have a filling, healthy supper at Pizza Hut if you stick to single servings, eat lots of vegetables, and avoid carb-heavy extras.
References