Sugars are carbohydrates. They serve as a source of energy in our diet, just like all carbohydrates. Although the term "sugar" is used most frequently to refer to sucrose or table sugar, a "double sugar," it actually refers to all sweet carbohydrates. Carbohydrates are converted by the body into simple sugars like glucose that may be used right away. Because they give food items flavor, color, volume, and thickness, sugars are widely used in the processed food business. They serve as a preservative and also stop mold from growing.
In this blog, we'll talk about our cravings for sweets and clarify whether or not our bodies actually require them to function. Additionally, we examine the negative consequences of consuming too much sugar as well as the suggested intake while consuming sugar.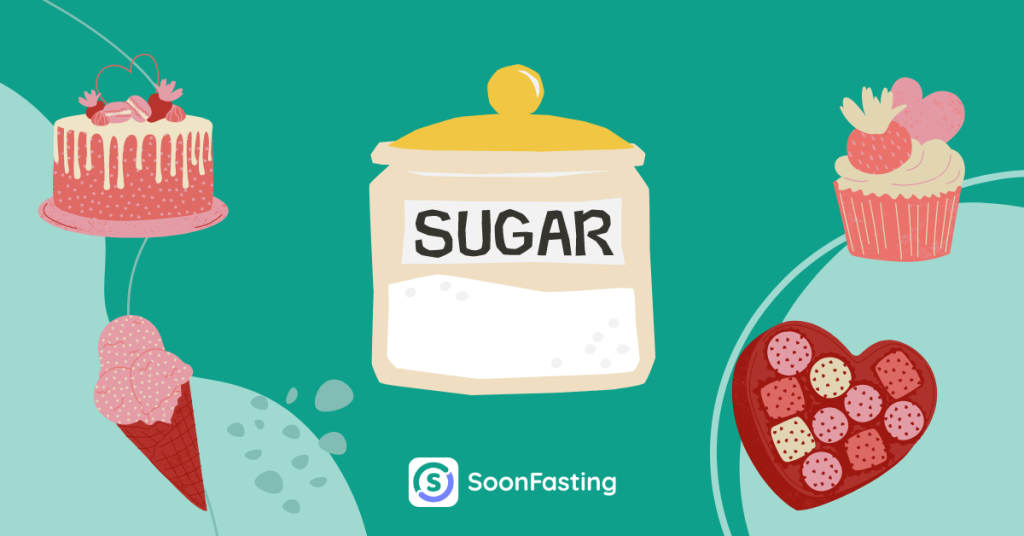 Can people live without sugar?
We need sugar as fuel to produce energy. Foods high in carbohydrates are converted by the body into glucose, which can then travel through the bloodstream. For the brain, central nervous system, and red blood cells to operate properly, some glucose is required. By way of a built-in feedback system, the body produces more insulin when blood sugar levels are high and less of it when levels are low. For the body to work correctly, insulin levels must be healthy. A person can acquire diabetes if their insulin levels are too low or if their insulin is no longer functioning properly.
Moreover, sugars that occur naturally in foods, such as fruit and lactose, or milk sugar, originate from food sources that are good for your diet.
Why do people crave sugar?
Humans have been eating sugar since ancient times, and sugar originated in the Indian subcontinent. There are signs of early sugar consumption in Southeast Asia (more precisely Papua New Guinea) as early as 8,000 BC. At that time, though, honey was the more common sweetener because it was both more common and easier to transport.
Sugar was originally consumed by chewing raw sugar cane. The first records of sugar being crystallized to make it easier to transport date back to around 500 BC, which is still a long time ago, in India and China. Two thousand years later, Venetian producers began to establish their own plantations in the 15th century, quickly making them no longer a major importer, but a European sugar producer. Supply and production remain limited as sugar remains a luxury item. Around the same time, Christopher Columbus introduced sugar cane seeds to the New World on his second voyage. In modern times, it is also the most consumed sugar per capita. According to the WorldAtlas report, the average American consumes about 126.4 grams of sugar per day. It was followed by the Germans (102.9g) and the Dutch (102.5g), as both countries have a sweet tooth. The following graph shows the top 10 sugar-loving nations in the world: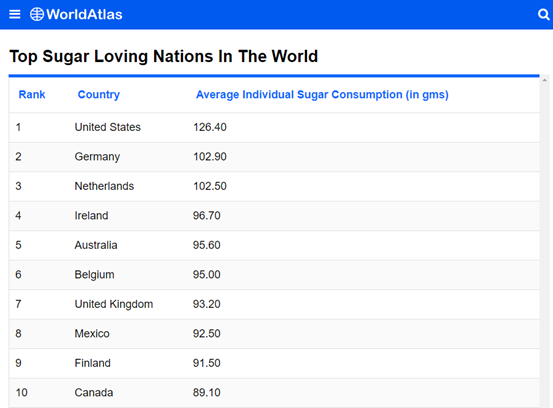 The next reason why we crave sugar lies in nature. In other words, we are born with a craving for sugar – it's in our DNA. Kids are undoubtedly the biggest fans of sugar. From cookies and candy to sweetened beverages, toddlers and teens have a much stronger sugar preference than adults. But did you know it's not just because the ads are successfully targeting these target audiences, but also because of the underlying biology? As stated in one scientific research: "A taste for sweetness during development may ensure the acceptance of sweet foods, such as breast milk and fruit." In addition, recent research suggests that the pain-relieving properties of sugar may further promote the love for sweets in children.
What else makes people crave sugar? Undoubtedly, sugar can make food taste better and is cheap and simple to obtain. Sincerely, I have yet to encounter anyone who dislikes sugar. You may have heard of its so-called healing power. In ancient Greece and Rome, it was primarily used as medicine. Later in England, it was introduced not only as a spice but also for its supposed medicinal purposes. In the mid-12th century, sugar was used to treat any ailment such as fever, cough, chapped lips, chest pain, and stomach problems. But did you know that even modern doctors are discovering ways sugar can benefit your health? For example, patients with insulin-dependent diabetes can use sugar to disinfect wounds safely and effectively. Sugar prevents bacterial development, according to in vitro research.
A blood sugar imbalance is also a common cause of sugar cravings. Your body releases insulin to bring your blood sugar level down to a safe level after consuming sugar, which causes it to surge. Your body seeks things that will raise your blood sugar level and provide you more energy if the insulin, as frequently happens, lowers it a little too much. It's challenging to get off the blood sugar roller coaster you're on. Eating meals that stop too much insulin from being released, such as protein and healthy fats, and taking very tiny amounts of sugar are the keys to maintaining blood sugar balance (if any).
What are the bad effects caused by too much sugar consumption?
No matter the event or cause, even the best of us occasionally experience a sugar overdose. Examples include a Christmas party, your favorite pie, or a difficult day at work. Sadly, as the rush of dopamine through your body wears off, you are left with the harmful effects of sugar on your body. The bad effects caused by too much sugar consumption mainly include:
Tooth decay
Tooth decay is not directly caused by the sugar in sweet meals. However, the natural bacteria in your mouth turn sugary foods into acidic substances when you eat them. Because acids tend to wear away everything around them, including the enamel on your teeth, this weakens your teeth and increases your risk of developing cavities.
Cravings and weight gain
When your body crashes, it will start to tell you that it needs additional energy by making you hungry. You'll probably start seeking particular items that provide you with a lot of immediate energy: sweet foods. Unfortunately, giving in to these desires frequently results in a vicious loop of feeling hungry, reaching for something sugary from the cabinet, and then feeling hungry again shortly after. Additionally, drinking sugary beverages is linked to weight gain and a higher risk of developing type 2 diabetes according to research.
Type 2 diabetes
A leading factor in death and shorter life expectancy is diabetes. Over the past 30 years, its prevalence has more than doubled, and predictions indicate that its burden will keep increasing. Diabetes risk has always been correlated with excessive sugar consumption, some research shows.
Heart disease
Evidence shows that regularly eating too much sugar has been linked to a higher incidence of atherosclerosis, high blood sugar, high blood pressure, inflammation, and obesity. Risk factors for heart disease and other heart conditions including heart attacks include all of these problems. Simply defined, a diet heavy in sugar is associated with heart disease, the leading cause of mortality in North America.
Acne and wrinkles
It has been demonstrated that high-sugar diets enhance the production of androgens and oil (hormones). Furthermore, it has been demonstrated that they promote the production of advanced glycation end products (AGEs). The former make acne more likely to occur; the latter hastens the aging of the skin and causes wrinkles.
Mood issues
We already know that having too much sugar can make us irritable and tired due to the energy highs and lows it brings. You can create the ideal environment for mood disorders like depression to flourish by repeating that cycle repeatedly, adding sleep issues, persistently low energy (and fewer endorphins from exercise), potential weight gain, and other potential bad consequences of sugar on your health. Accordingly, it has been discovered in a number of researches that "reduced intake of sugar may be connected with greater psychological health."
Is it possible to completely cut sugar out of your diet?
There's one fact you should keep in mind sugar is everywhere and in everything. It would be quite challenging to completely eliminate sugar from your diet. Sugar can be found in a variety of foods, including meat and fats; fruits; vegetables; dairy products; dairy substitutes; eggs; nuts; alcohol; and dairy products. And certainly, a person's diet cannot be completely sugar-free. There is an interesting thing that you may know: lemons even have more sugar than strawberries, and the reason it tastes sour is that lemons contain a lot of citric acids, usually 3 to 6 percent, which dominates the sweetness of lemons and cause a sour taste. Strawberries have less sugar than lemons, but there is no acid in strawberries, so they taste sweet.
Where exactly to draw the line when consuming sugar?
So with all that said above, how much sugar is recommended? In fact, the amount of sugar to consume each day is not specifically advised by the Australian dietary guidelines. They do recommend 'limiting the intake of foods and drinks containing added sugars such as confectionary, sugar-sweetened soft drinks and cordials, fruit drinks, vitamin waters, energy, and sports drinks. But according to the American Heart Association (AHA), a person's daily limit of discretionary calories should not include more than 50% of sugary foods. There are different amounts for men, women, and kids under 18. Most men should limit their daily sugar intake to 150 calories at most. This is comparable to 9 teaspoons (tsp) or 38 grams (g) of sugar. Sugar consumption for women should be limited to 100 discretionary calories per day. It contains about 25 g, or 6 tsp, of sugar. No more than 25 g, or 6 tsp, of added sugar should be consumed daily by children between the ages of 2 and 18.
Four Facts You Must Know about Sugar
Since ancient times, many different foods and beverages have included sugar, a substance with a sweet flavor. Even though it is present in almost all plants, only sugarcane, and sugar beet can be commercially used to extract it. This sweetener has gained popularity and is now found in practically all food products. It's difficult to find someone who doesn't like it. But before you consume, just learn about the following four useful facts about sugar!
Sugar in fruits is nature's candy that is good for you.
Sugar's original "natural" source is fruit. And it's healthy, just like mom always said about fruits and vegetables. Fructose, a naturally occurring sugar, is present in the fruit. Fruits from trees and vines, as well as berries, contain fructose (and most root vegetables). Typically, the fruit has more sugar the sweeter it tastes. But keep in mind that eat whole fruits rather than just drink fruit juice. Drinking juice, even if it is freshly squeezed at the moment, is less healthy than eating the fruit intact because juice eliminates fiber while releasing sugar.
Be cautious about the unknown sugar in your diet.
The unknowing sugar is everywhere. The creamer we use, the syrup on pancakes, the ketchup in burgers, the dressing in salads, the bread in sandwiches, and the juices made from juice concentrates are all unknowingly sugar. It also can be found in many peanut butter and even pasta sauces. So please go into your pantry and pick up any food and simply read the label for those unknowing sugar.
You don't need extra added sugar.
We do need sugar (in the form of glucose) to survive, but interestingly, the body knows how to make glucose from our food sources (like protein and fat), so we don't actually actively seek out and consume sugar. Let your body use the normal food you eat to make the glucose you need. Once glucose is made, it can be stored in muscle and adipose tissue for later use. The term "added sugar" refers to sugars that are included in food processing (such as sucrose or dextrose), foods that are packaged as sweeteners (such as table sugar), sugars from syrups and honey, and sugars from concentrated fruit or vegetables juices. Most added sugar comes from processed and prepared foods, which are more calories without additional nutrition. They are"empty calories," which can cause weight gain and other health issues.
Don't believe sugar-free, just read the label or test before consuming.
Recipes and product labels are being falsely branded as sugar-free more and more frequently. Do not be deceived! Despite the fact that many products have the label "sugar-free," this does not always imply that the item or recipe contains no sugar. For example, "there's no added sugar" does not necessarily imply sugar-free. Sugars that occur naturally are present in many meals. For instance, lactose and fructose, two naturally occurring sugars, are found in milk and fruit, respectively. Let's imagine that you are sipping some orange juice. Despite having only one ingredient—oranges—and consequently containing no additional sugar, one glass has more than 20 grams of sugar. Moreover, when ordering food and drinks outside, although you want sugar-free, you should pay attention. Some waiters are not responsible. Although some are labeled sugar-free, there is not much different from those normal drinks. At this time, you need to check the label or test. There is a post from u/Other-Cantaloupe4765 on Reddit showing that the servers don't take it seriously when you emphasize that your coffee needs to be sugar-free. But gladly, he tested the sugar content and found that the coffee was actually not sugar-free. There are also many people in the comment section who have shared the same experience and complained. So when you see the sugar-free label or order something sugar-free, read carefully and you'd better test if you are in health condition and can't consume too much sugar in your diet.
Bottom Line
Sugar is everywhere and we cannot survive without sugar as it provides us energy.
People always crave sugar for some reason. Firstly, sugar has been consumed by people since prehistoric times. Secondly, our DNA predisposes us to have a sugar appetite from birth. Thirdly, sugar is inexpensive, easy to obtain, and can improve the flavor of food. Lastly, the imbalance in blood sugar can also cause sugar craves.
Once you consume too much sugar, some health problems occur including weight gain, acne and wrinkles, mood issues, heart disease, and so on.
According to the American Heart Association (AHA), a person's daily limit of discretionary calories should not include more than 50% of sugary foods. But the Australian dietary guidelines make no mention of the recommended daily sugar intake.
Be careful with sugar and don't be fooled. There is an irritating trend of using the term "sugar-free" incorrectly to describe recipes and label products. So, every time when you want sugar-free products, read carefully, especially when you see some unknown sugar on the label.
References: