In various dishes from different cultures, chicken is a flexible and adaptable protein. In terms of lean protein (protein without a lot of accompanying fat), chicken breast is a fantastic source. This implies that the majority of the calories in chicken breasts are from protein. And chicken breast, despite being one of the most common types of meat in the country, can also be one of the trickiest to prepare, frequently straddling the line between overcooked and dry. So, now let's continue to read for more information about the recipe ideas for chicken breast.
Chicken Breast Nutrition
Being low in fat and a high source of protein, the chicken breast is a particularly healthful component of this already nutrient-rich bird. Chicken breasts are often sold skinless and boneless since the majority of chicken fat is located in the skin. According to the USDA, a 100g serving of raw, boneless, skinless chicken breast typically contains:
Protein: 24.11g
Calories: 143kcal
Fat: 3.12g
Sugars: 0.89g
Carbohydrate: 2.68g
Fiber: 0g
Sodium: 455mg
Vitamin A: 179IU
Notes: Depending on its size and whether it was grown on pasture, on the free range, in a cage, or in another environment, a chicken breast's specific nutritional value and calorie count can change.
Why is Chicken Breast Beneficial for Weight Loss?
A healthy, well-balanced diet can benefit greatly from including chicken breast, which is a great source of many essential elements. If losing weight is one of your goals, the chicken breast may be particularly good because it is low in calories but high in protein.
According to studies, consuming more protein can help you feel more satisfied, lose weight more quickly, and keep your lean body mass. You may curb your appetite and avoid overeating by consuming protein, which makes you feel satisfied. Chicken breast is an excellent option for you if you want to increase your meal enjoyment because it is high in protein.
Can I eat chicken breast while fasting?
Of course, you can, during the eating window.
Chicken breast is a versatile and lean protein source that perfectly complements the principles of intermittent fasting. When following an intermittent fasting regimen, where the focus is on restricting eating to specific time windows, chicken breast can be an excellent choice for the eating period. Packed with high-quality protein, chicken breast helps promote satiety and aids in muscle maintenance and repair. Its low-calorie and low-fat content make it ideal for individuals seeking to maintain a calorie deficit during fasting periods. Whether grilled, baked, or pan-seared, chicken breast offers a delicious and nutritious option that aligns with the goals of intermittent fasting, supporting both weight management and overall health.
Other Nutritions Friendly with Intermittent Fasting:
10 Easy Home Recipes with Chicken Breast
For example, chicken breasts can be dressed up or down for entertaining or a nightly meal. These work like absolute superstars for dinner preparation and packed lunches. Chicken also accepts sauces and flavors from all around the world. Chicken breasts are luscious and juicy when cooked properly. Although overcooking might cause them to dry out rapidly, cooking chicken breasts at home will always produce excellent results when you're well-informed. Here are 10 easy recipes with chicken breast for you! Have a try!
Recipe 1: Apple & Chicken Salad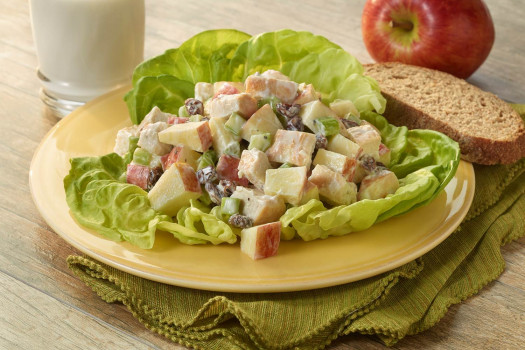 Crisp Cameo apples, celery, raisins, chicken breast, and a Greek yogurt-based dressing are all combined in a delectably well-balanced dish and served over a bed of lettuce.
Ingredients:
2apples
2 cups of skinless, cooked, diced chicken breasts
2 diced celery stalks
1/4 cup of plain, non-fat Greek yogurt
1/2 cup raisins
1/4 cup of mayonnaise
1/8 teaspoon ground black pepper
16 lettuce leaves
Preparation:
Remove the core from the apples and slice the quarters.
All ingredients—except lettuce—should be combined in a medium bowl.
Place lettuce on serving plates, then top with apple salad and chicken salad.
Recipe 2: Chicken Cordon Bleu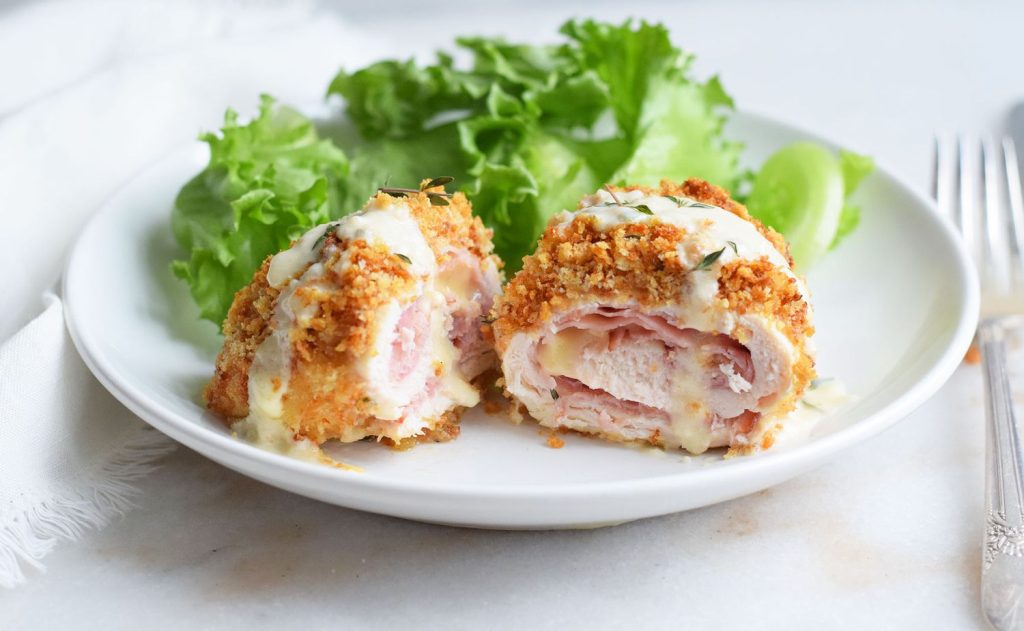 The comfort food staple chicken cordon bleu consists of boneless, skinless chicken breasts that have been breadcrumb-crusted, wrapped in thin slices of ham, and cheese that has been melted.
Ingredients:
4 boneless, skinless chicken breasts
4 thin slices of prosciutto or ham
4 slender Gruyère or Swiss cheese slices
3/4 cup of dried breadcrumbs
1/4 cup of parsley, coarsely chopped
1 big egg
Preparation:
Place a rack in the oven and heat it to 375 degrees. Working with a chicken breast at a time, place it between parchment paper and pound with a mallet or rolling pin until it is about 1/4″ thick. Sprinkle salt and pepper all over the chicken.
With space around the edges, top each breast's half with a slice of ham and a slice of cheese. With the edges firmly sealed, fold the breast in half over the ham and cheese.
In a small bowl, mix the breadcrumbs, parsley, salt, and pepper to taste. In another small bowl, whisk the egg and one tablespoon of water. On a dish, sprinkle flour.
Shaking off any excess flour, coat the chicken on both sides before dipping it in the egg mixture. Apply the breadcrumb mixture all over, patting it down with your fingers to ensure adhesion. Toss onto a platter.
In a large, heavy skillet, heat the oil until it shimmers. Sauté chicken for 2 to 3 minutes on each side, flipping it occasionally, until it is browned. Season with salt and transfer to a wire rack positioned inside a rimmed baking sheet. About 5 minutes into baking the chicken, insert an instant-read thermometer into the thickest area and check the temperature.
Recipe 3: Soy-Marinated Chicken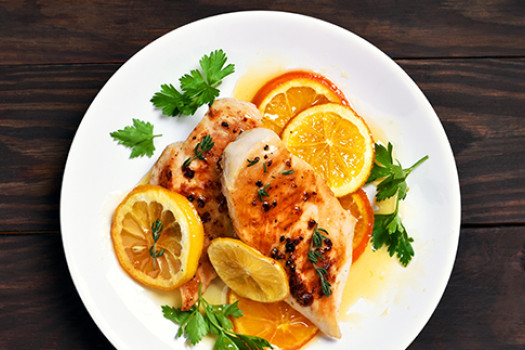 It is an easy and delicious chicken dish. Take pleasure in brown rice and a crisp salad or a whole grain roll.
Ingredients:
4 chicken breasts, boneless & skinless
1 large orange
2 teaspoons sodium-free soy sauce
Preparation:
Round orange slices should be cut into pieces, then left away.
Put four chicken breasts in a plastic zipper bag about 1 gallon.
To the bag containing the chicken, add the liquid.
Close the bag with a zipper, then gently massage the chicken inside to distribute the liquids throughout the bag.
For four hours or longer, marinate the chicken in the bag in the refrigerator.
oven to 350 degrees Fahrenheit.
Spray a shallow baking dish with non-stick spray so that it can fit chicken in a single layer and is oven-safe.
Take the chicken out of the bag and arrange it in the baking dish in a single layer. The chicken's zip-top bag should be discarded.
For 20 minutes, bake the chicken uncovered.
After flipping the chicken, add the reserved orange slices on top, and bake for 15 more minutes (a total of 35 minutes).
Use a food thermometer to verify. 165°F is the ideal temperature.
If preferred, garnish the chicken with an orange slice straight from the baking dish.
Recipe 4: Asparagus, Mandarin Orange, Chicken, and Rice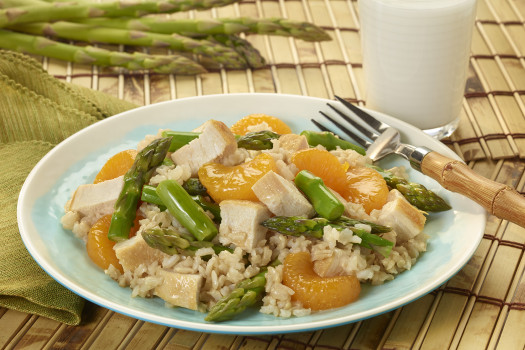 This Asian-inspired salad pairs perfectly with fresh California asparagus, mandarin oranges, chicken, and brown rice.
Ingredients:
2 teaspoons of rice vinegar
1 teaspoon of soy sauce
3 tablespoons mandarin orange juice
2 cans Mandarin oranges in 11-ounce cans
cooked 12-ounce breast of chicken (cut into chunks)
3 cups of brown rice
3 1/3 cups fresh asparagus
Preparation:
Mix the vinaigrette ingredients in a small bowl, then set it aside.
As directed on the package, prepare the rice.
In a big skillet, add entire, trimmed asparagus and 1 1/2 inches of water.
Bring to a boil, lower the heat, and simmer for 2 to 5 minutes with the lid off.
After rinsing, slice the produce into 1-inch pieces.
Toss all the ingredients in a medium-sized bowl.
Recipe 5: Roasted Brussels Sprouts, Potatoes, and Chicken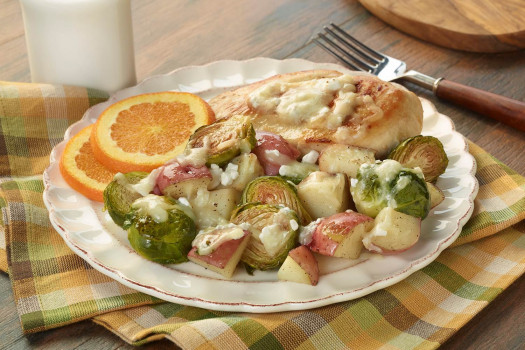 This excellent rendition of this adaptable fall-baked meal has potatoes and Brussels sprouts, but other fall vegetables like parsnips, carrots, and cabbage might be replaced.
Ingredients:
3 cups of brussels sprouts
1/2 cup of chopped onion
4 chunked littler red potatoes
2 cloves of garlic
1/8 teaspoon pepper
1/2 cup, nonfat Ricotta cheese (or cottage cheese)
1/4 cup of part-skim mozzarella cheese
2 tsp milk without fat
1 pound of boneless chicken breast
Preparation:
The oven should be preheated to 325 degrees.
Cooking spray-coated Brussels sprouts, potatoes, onions, and garlic are combined with one tablespoon of extra virgin olive oil, salt, and pepper in a 2-quart baking dish.
Combine cheese and milk in a small bowl.
Add the last of the olive oil to the chicken breasts.
Nestle the vegetables in the baking dish.
cheese mixture on top
Bake the chicken for 40–45 minutes, or until done, covered with foil.
Recipe 6: 2-Step Chicken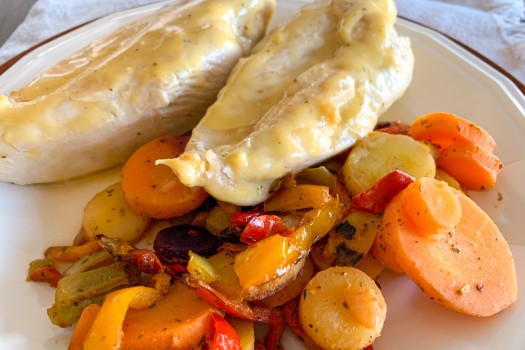 This recipe, which calls for chicken and cream of chicken soup, is the epitome of simplicity. For a vibrant meal, serve it with roasted mixed veggies or a salad. Even better, while it's cooking up, 2-step about the kitchen to burn some extra calories!
Ingredients:
1 tablespoon vegetable oil
2 Boneless chicken breasts
1 can cream of chicken soup
1/2 cup water
Preparation:
Using a medium-high heat setting, warm the oil in a skillet.
Ten minutes after adding the chicken, remove it.
Take the chicken from the pan and place it aside.
In a skillet, combine the water and soup, stirring to combine the ingredients.
Go back to the skillet with the chicken. Once the chicken reaches a temperature of 165 °F internally, lower the heat to low and simmer for an additional 10 minutes.
Recipe 7: Chicken Breasts in Caper Cream Sauce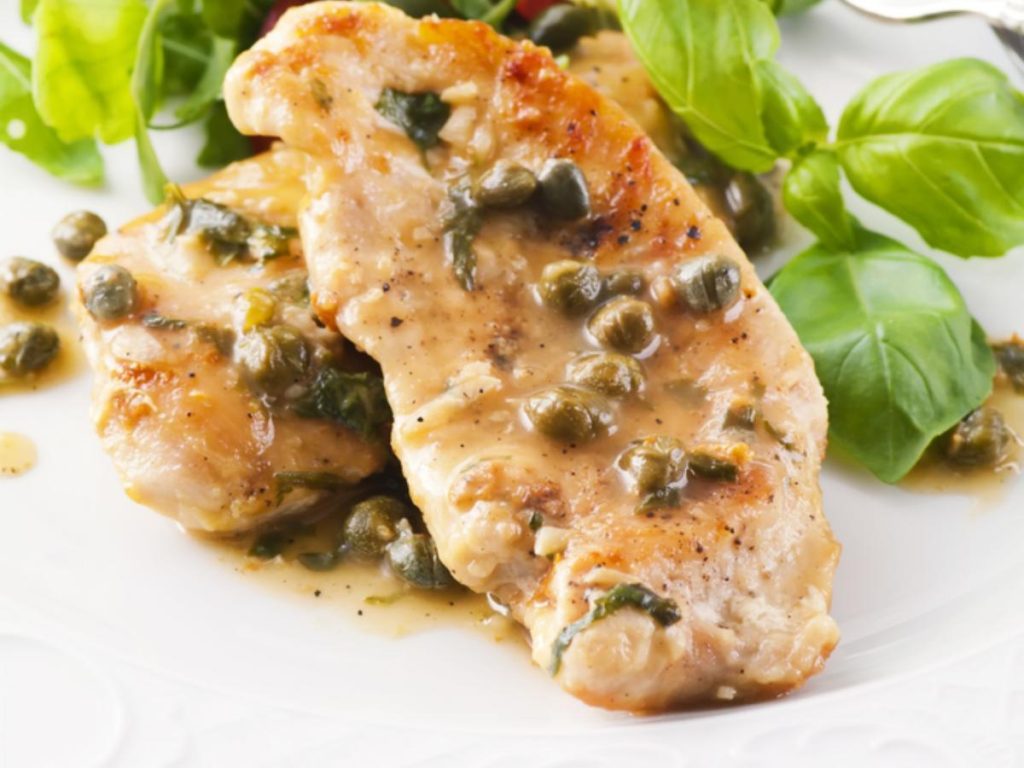 Check out these fantastic suggestions to improve this well-liked recipe, including lightly coating the chicken in flour to give it a visually pleasing crust and increasing the sauce.
Ingredients:
4 boneless, skinless chicken breast halves
1 teaspoon lemon pepper
2 tablespoons capers
1 teaspoon garlic powder
1 teaspoon dried dill weed
3 tablespoons butter
½ cup whipping cream
Preparation:
Lemon pepper, salt, dill weed, and garlic powder are used to season chicken breasts.
Over medium heat, melt butter in a large skillet. Heat skillet to medium-high, then add the breasts. Chicken should be turned often for 5 minutes or until brown. Cook for 5 to 7 minutes over medium heat, or until the breasts are thoroughly cooked. Transfer the chicken to a warm serving plate, then wrap it in foil.
Turn the heat up high and place the skillet back on the stove. Whipping cream should be whisked in while reducing the mixture to sauce consistency, which should take about 3 minutes. Eliminate from heat. Add capers after combining. Chicken should be served with sauce.
Recipe 8: Chicken and Feta Burgers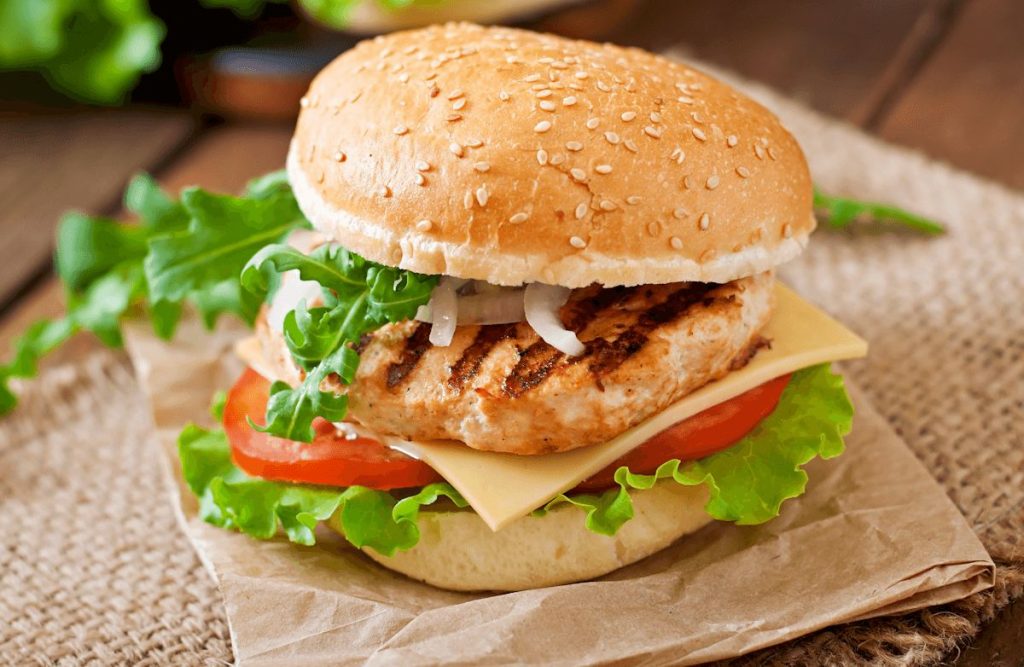 Serve these delectable burgers on a Greek salad or inside pita bread, then top with tzatziki sauce.
Ingredients:
1 ½ pounds ground chicken breast
3 tablespoons chopped fresh oregano
2 ounces of crumbled feta cheese
1 ½ tablespoons crushed garlic
⅛ tablespoon coarse-ground black pepper
Preparation:
In a bowl, combine the chicken breast, oregano, tapenade, feta cheese, and garlic; make 4 patties. Apply salt and pepper to the burgers.
High heat should be set for an outside grill, and olive oil should be used to lightly coat the grates.
Patty should be cooked for around 5 minutes or until the bottom is blackened. After flipping, grill the burgers for a further 5 minutes without pressing down with a spatula to finish cooking them. Serve after draining on a platter covered with paper towels.
Recipe 9: Lucky's Quickie Chickie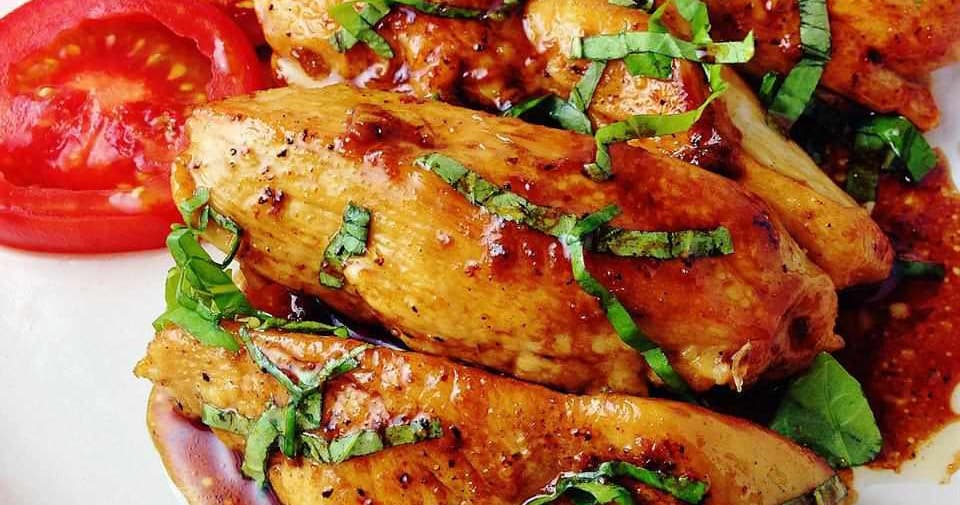 Just four items are required to start this dish (not counting salt, pepper, and oil). What a simple task!
Ingredients:
6 ounces of chicken breasts
2 tablespoons chopped fresh basil
1 1/2 teaspoons honey
1/8 teaspoon ground black pepper
1 1/2 teaspoons of balsamic vinegar
Preparation:
In a nonstick skillet, heat the olive oil over medium-high heat. Salt and pepper the chicken breast. For 3 to 5 minutes, or until the chicken is no longer pink in the center, cook and toss it in the heated oil.
For one more minute, stir in the basil, honey, and balsamic vinegar to the chicken breast.
Recipe 10: Chicken Katsu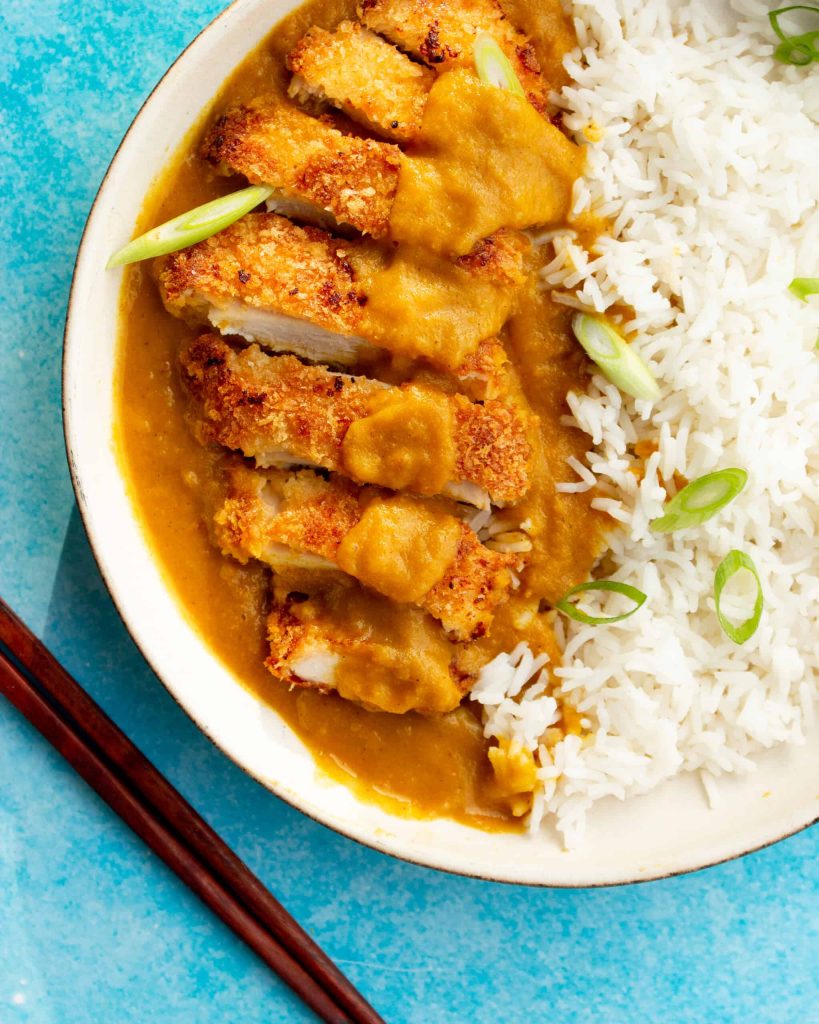 This chicken katsu is actually known as a kind of Japanese-style fried chicken. Use this highly regarded recipe to prepare chicken katsu that rivals that found in restaurants. It comes together so quickly with only a few ingredients that you won't believe it!
Ingredients:
4 skinless, boneless chicken breast halves
All-purpose flour
6 tablespoons Worcestershire sauce
2 teaspoons low-sodium soy sauce
2 teaspoons granulated sugar
Canola or vegetable oil
1 1/2 panko bread crumbs
1/4 peeled fresh ginger
1 teaspoon ground cloves
Preparation:
To make the tonkatsu sauce, put all of the needed ingredients in a small bowl and stir to combine. Creates 2/3 cup.
Get ready for the chicken: 13 inches of oil should be in a big cast-iron or heavy skillet. An instant-read thermometer should read 350 degrees when the heat is on medium.
In three distinct, broad, shallow basins or large plates, combine the flour, eggs, and bread crumbs.
Chicken cutlets should be salt and pepper-seasoned. Dredge each cutlet in flour, one at a time, until completely covered. Shake off the extra. Press into bread crumbs until thoroughly coated, then dip in egg, coating both sides, letting excess fall off. Repeat with the other 3 cutlets, transferring to a clean plate.
2 cutlets should be gently dropped into the oil and fried for about 2 minutes, or until brown below. Heat should be adjusted to maintain the food at about 350 degrees. After an additional 112 to 2 minutes, flip the chicken over and continue to cook it until it is thoroughly done. Add salt and transfer to a plate lined with paper towels to drain. Repeat with the other two cutlets.
Transfer thick slices of the cutlets to plates. With the katsu, divide the cabbage into mounds. Some of the tonkatsu sauce should be drizzled over the katsu. Serve with additional tonkatsu sauce, lemon wedges, and small bowls of rice.
Final Thoughts
Many people can benefit from the chicken breast as a fantastic source of lean protein. And meals can become more enjoyable and something to look forward to by adding different flavors to this wholesome staple or finding different and interesting recipes. Therefore, don't be afraid to try out various tastes. Several cuisine pairings and flavors go well with chicken breast. Your chicken breast dishes can be given new life with a little creativity. In other words, chicken breast can be easier to cook than you have imagined. Let's dive into the wonderful recipes to try and you may also discover something interesting at the process of your cooking! Just remember that everything will be delicious if prepared with heart. Last words for you: just try now and make your own delicious chicken breast recipe!
References: