Exercise can be challenging if you don't really enjoy being active. Even more challenging is working out solely to lose weight. What is the recommended weight-loss strategy for those who dislike exercising, then? Usually, the solution is to eat less for calorie restriction. Cutting back on carbohydrates comes in second. However, intermittent fasting has become more and more fashionable in recent years.
In addition, the ketogenic diet, sometimes known as the "keto" diet, has grown significantly at the same time but isn't as well-known as intermittent fasting. Which approach is better? It's not that simple, as you might have guessed from the quick answer. First, while all of the aforementioned techniques can aid in weight loss, some also offer additional advantages. There are also feasibility considerations to examine. Now let's learn more about intermittent fasting and the keto diet.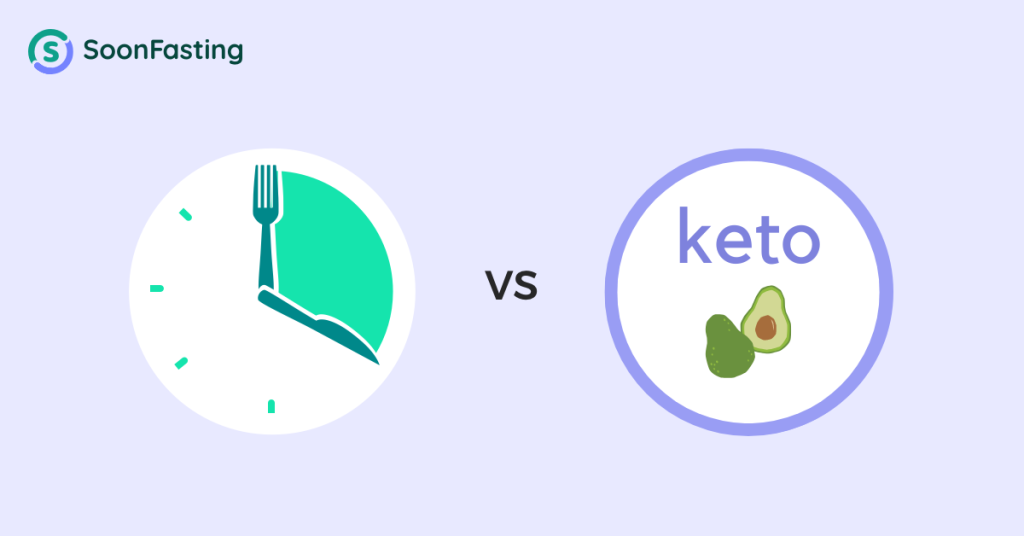 Contents
What is Intermittent Fasting?
Intermittent fasting (IF) is, actually, restricting your calorie intake for a specific period of time. This diet's origins can be traced all the way back to ancient Greece and Egypt when people fasted in preparation for battle. This is due to the hormone norepinephrine, which is released during a fast and boosts energy, attention, and alertness. In a word, intermittent fasting focuses on when you eat while many diets focus on what you eat.
How does Intermittent Fasting Work for Weight Loss?
The eating pattern known as intermittent fasting involves eating only during certain times of the day. These windows might range from a few hours of fasting every day to fasting every other day of the week, depending on the type of intermittent fasting you select. Intermittent fasting generally promotes weight loss by creating a calorie deficit, but many people practice it for other related health advantages. Low glucose levels during a fast cause the body to enter "starvation mode," which triggers the homeostatic process of autophagy, which is where the body eliminates unhealthy cells and reuses pieces of them to create new cells. According to a study published in the EMBO journal, this mechanism encourages the regeneration of healthy cells and eliminates mutant cells that may turn cancerous as well as harmful proteins that may be to blame for the emergence of neurological diseases like Parkinson's and Alzheimer's disease.
Benefits of Intermittent Fasting
As a popular way nowadays, intermittent fasting has loads of health benefits including the following aspects:
Burning stored fat
Most IF beginners mainly aim to lose weight. And that assertion appears to be true, at least in the short term. According to a review that appeared in the Canadian Family Physician in February 2020, IF may help overweight or obese people lose weight. Researchers examined data from 27 studies and discovered that IF assisted participants in losing up to 13% of their body weight.
Reducing inflammation
Although there aren't many clinical trials, some animal research suggests that IF and general calorie restriction can both lower inflammation levels. A group of 50 volunteers who were fasting for Ramadan, the Muslim holiday that entails fasting from dawn to sunset and eating overnight, were examined by the authors of a study that was published in Nutrition Research in order to see whether the connection also exists among humans. Pro-inflammatory markers as well as blood pressure, body weight, and body fat were all found to be lower than typical during the fasting phase, according to the study.
Lowering the risk of cancer
According to a review published in November 2018 in Nature Reviews: Cancer, a fasting diet may lower the chance of developing cancer by reducing the ability of cancer cells to adapt and spread and by enhancing the outcomes of cancer treatment. Additional research is required in the following area as well: More high-quality randomized clinical trials are required, according to an article in CA in November 2021: A Cancer Journal for Clinicians, to support this association. Of course, it's also crucial that cancer patients speak with their medical team before making dietary adjustments.
Types of Intermittent Fasting Plans
Since intermittent fasting involves splitting the day or week into the eating and fasting periods, it can include a lot of plans. And the most common kinds of these intermittent fasting plans are:
Time-Restricted Fasting
The main goal of time-restricted fasting is to limit meals for a certain number of hours within a 24-hour period. The majority of the fast is observed while people are asleep. The 16:8 approach, which involves just eating for eight hours each day and fasting for sixteen, is prevalent. Time-restricted fasting sometimes includes eating only one meal each day or skipping meals. Other plans like 18:6, 20:4, 12:12,14:10, and so on are also included in the time-restricted fasting. These plans can be easily understood according to the name which involves the time of eating and fasting periods for a day.
Alternate Day Fasting
Alternate-day fasting entails alternating between "feast" days when eating is mostly unlimited, and "fast" days, when very little food is consumed. Since there are 3 to 4 days each week when little to no food is consumed, this method, which alternates every other day, is thought to be highly difficult.
Eat Stop Eat
Brad Pilon, who established Eat Stop Eat, claims to have developed the concept while conducting graduate-level research on short-term fasting at the University of Guelph. Brad's website states that Eat Stop Eat entails fasting for 24 hours twice a week, followed by five days of "responsible eating," but not necessarily "dieting." He writes, "You can have three meals per day or 20. As long as you are eating responsibly and keeping your overall intake in check, I'm okay with any pattern of meals that works for you."
What is Keto Diet?
For the treatment of epileptic patients, the ketogenic or keto diet was first established in the 1920s. Unlike the scenario now, it didn't gain much popularity back then. This diet is a high-fat, low-carb diet that is often confused with the Atkins diet (high fat, high protein).
How does Keto Diet Work for Weight Loss?
By choosing this path, you will avoid eating bread or chapati. A diet low in carbohydrates triggers a condition in your body called ketosis where your body begins burning fat more quickly to keep you energized. As a result, you usually lose weight.
Benefits of the Keto Diet
As a comparatively strict diet, the keto diet also has some significant health benefits including:
Losing weight
The ketogenic diet may aid in weight loss in a number of ways, including by increasing metabolism and decreasing appetite. Foods that fill you up are part of ketogenic diets, which may also lower hormones that make you hungry. These factors suggest that adopting a ketogenic diet may decrease hunger and aid in weight loss. In a meta-analysis from 2013 of 13 separate randomized controlled trials, those on ketogenic diets lost 2 pounds (lbs) more over the course of a year than those on low-fat diets.
Improving acne
Numerous factors can contribute to acne, and some people's diets and blood sugar levels may be involved. Eating a diet rich in processed and refined carbohydrates may change the balance of gut bacteria and create major swings in blood sugar, both of which can be harmful to the health of the skin. A 2012 study found that a ketogenic diet may help some persons with acne issues by reducing carbohydrate intake.
Probably improving heart health
When following the ketogenic diet, it's crucial to make healthy meal selections. According to some research, consuming healthy fats like avocados instead of unhealthy fats like pork rinds will help lower cholesterol and hence improve heart health. In 2017, a review of research on the ketogenic diet in both animals and people found that some persons had significant reductions in their levels of triglycerides, low-density lipoprotein (LDL), or "bad" cholesterol, and total cholesterol, as well as a rise in HDL, or "good" cholesterol.
Keto Diet Meal Plan
More specifically, at least 70% of daily calories must be from fat for the keto diet to be successful. Protein makes up 10 to 20% of calories, while carbohydrates make up the remaining 5 to 10%. The current Dietary Guidelines for Americans recommend that between 45 and 65 percent of total calories come from carbohydrates, hence this diet is regarded as being quite low in carbohydrates. Meat, fish, eggs, nuts, butter, and healthy oils are typical sources of fat. Protein should be consumed in moderation because it can be converted to glucose, which could delay the onset of ketosis. Compared to a typical meal, a typical keto meal looks very different, for example:
Eggs, avocado, and bacon for breakfast
Meatballs with zucchini noodles for lunch
Baked cheese-topped chicken and cauliflower (lots of cheese) for dinner
Intermittent Fasting vs Keto Diet
The main distinction between the keto diet and intermittent fasting is that the keto diet, also known as the ketogenic diet, calls for eating a lot of foods that are high in fat and low in carbohydrates. Contrarily, intermittent fasting entails either eating at regular intervals or going without meals entirely. In addition, the pros and cons of intermittent fasting and the keto diet are slightly different. Let's discuss more together!
Pros and Cons of Intermittent Fasting
Intermittent fasting, the current health craze that involves going without food for set periods of time, has many benefits and a few drawbacks, just like everything else. Fasting only occasionally can improve cognitive function, improve body composition, and reduce illness risk. But intermittent fasting has also some drawbacks, including the risk of health problems, the difficulty of long-term compliance, and potential social consequences.
Easily understood and followed
Not counting calories
No restrictions on macronutrients
No restrictions on eating
May increase longevity
Aids with weight loss
May aid with glucose regulation
May have additional health advantages like improving heart health, blood sugar and blood pressure, sleep, and so on
Cons of intermittent fasting:
Bad consequences of fasting days
May decrease physical activity and intensify hunger
Worries about people using drugs
Does not promote a nutritious diet
Possibly encourages overeating and is not long-term advisable
Pros and Cons of the Keto Diet
In fact, there is conflicting evidence that a keto diet is a successful approach to combat obesity, support athletes, or keep a healthy weight. Additionally, several specialists have voiced worries about the long-term consequences of the diet on heart health as well as the viability of the eating plan. The benefits and drawbacks of the ketogenic diet are examined in detail here.
Pros of the keto diet:
Enables rapid weight loss
Increases satiety and can reduce belly fat
May enhance athletic performance in some
Many recipes and internet resources
May raise the levels of health indicators like cholesterol, triglycerides, and blood pressure
Effective seizure disorder management techniques
Cons of the keto diet:
Difficult to maintain because there are few eating options
Side effects in the beginning phases
Potentially cause nutritional deficits
The healthiest diet option could be pricey and unattainable.
Not recommended for some populations
May not be healthy for persons who are pregnant, have health conditions, or have other medical conditions.
Intermittent Fasting vs Keto Diet, which is Right for You?
The final truth is that you can successfully lose weight using either of these diets. If the diet isn't "completely" balanced in the short term, there's probably no harm done. However, in the long run, it's crucial to ensure that these diets are correctly designed so you may obtain all the nutrients you need for your particular health profile and maintain the dietary regimen over time.
Instead of being a diet, intermittent fasting is a pattern of eating.
The biggest difference between IF and the keto diet is that intermittent fasting is not exactly a diet but a pattern of eating while the keto diet is a kind of diet. In other words, IF focuses on when to eat but the keto diet focuses on what to eat.
Who should avoid intermittent fasting or the keto diet?
Not everyone is suitable for intermittent fasting or the keto diet. The intermittent fasting or keto diet should not be followed by persons who are pregnant or breastfeeding, have a history of disordered eating, or have specific medical issues, such as diabetes or heart disease.
Can intermittent fasting and the keto diet be combined?
Yes, you can! But it's crucial to remember that while some people might benefit from combining routines, it might not be effective for everyone. The keto diet may be too challenging for some people, or it may have negative side effects like overeating on non-fasting days, irritation, and weariness. Despite the fact that it can be a useful strategy for doing so rapidly, intermittent fasting is not required combined with the keto diet.
In a word, the most crucial thing to note here is to always reevaluate the quality of your meals before you spend too much time considering what diet is best for you.
Intermittent Fasting vs Keto Diet, which is better for losing weight?
Intermittent fasting versus the keto diet, which one is better? It cannot be answered easily and should be analyzed case by case. For instance, the intermittent fasting method wins in the long run if your only objective is to lose weight. The following are the reasons:
Feasibility: Compared to planning a high-fat meal three times a day, skipping a meal for 16/8 or reducing calories on two days of the week is simpler.
Number-free Eating: No need to plan meals or calculate macronutrients (fat, carbohydrates, and protein)
More variety: Keto demands consuming large amounts of fats, which can be very difficult and not necessarily particularly palatable for certain people. In contrast, IF allows you to eat a range of foods.
Energy for exercising: With IF, you are free to eat carbs for training or recovery, however, a keto diet may not be ideal for you if you engage in high-intensity exercise.
Bottom Line
Intermittent fasting is an eating pattern focusing on when to eat while the keto diet is a strict diet focusing on what to eat.
When practiced correctly and regularly, intermittent fasting and the ketogenic diet both have important health advantages.
However, a coin has two sides. Intermittent fasting and the keto diet have some drawbacks including side effects, at the beginning, intensifying hunger, and so on.
No matter what diet or dietary lifestyle you choose, you need to make sure that it is nutritionally balanced for your individual medical and health profile in the long term.
References: