The "ice cream diet" is a diet that was inspired by Holly McCord's book of the same name. According to this regimen, consuming a small amount of your favorite flavor of ice cream each day can aid in weight loss. It seems too wonderful to be true, isn't it?
Ice cream is a delicious treat that is cold, sweet, and creamy. Some could even describe it as ideal. However, this hasn't stopped food producers from tampering with the original product.
Low-fat and light ice cream variants are abundant on grocery store shelves as a result of an effort to catch up with American diet trends. They assert that they provide the same flavor and delight while using less fat and calories. However, it's difficult to say whether these sweets are any healthier than the original. In reality, experts contend that the contrary may be true, and other studies support this.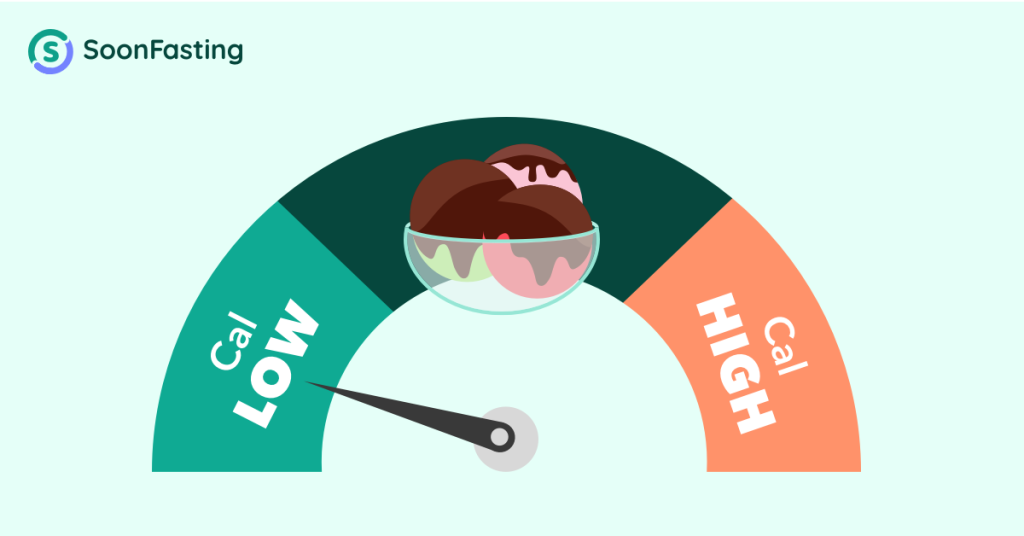 Low-Fat ≠ Low-Sugar
Sugar and fat are two of the most discussed dietary subjects. One of the most frequently asked questions by individuals with (and without) diabetes is "How much sugar or fat can I eat in my diet." Customers frequently choose low-fat products since they typically contain fewer calories, although this isn't always the case. Being "low fat" doesn't always equate to being healthy because some low-fat meals, such as yogurts, contain much more sugar.
Low-Fat Ice Cream May be a Trap.
Low-fat products have a straightforward issue that is more likely a trap. Food producers frequently add sugar to products to make up for the flavor that is lost when cream or other sources of richness are removed. The end result is a product that might be lower in calories and fat but is higher in sugar.
In order to reduce calories, low-fat ice cream is typically manufactured with low-fat dairy or milk substitutes, but this does not imply that it is low-sugar. Low-fat ice cream typically relies on sugar replacements to deliver sweetness, despite the fact that they are usually natural sweeteners like honey and agave syrup, sugar alcohols like erythritol and xylitol, and artificial sweeteners like aspartame and sucralose. For example, according to an analysis by the University of Manitoba, artificial sweeteners are linked to long-term weight gain and a higher risk of diabetes, high blood pressure, and heart disease. The Weizmann Institute of Science discovered that they affect the composition and operation of gut microorganisms, precipitating negative metabolic alterations.
Simple Home-Made Ice Cream Recipes Friendly with Health and Fitness
When the warm weather arrives, there's nothing better than rewarding yourself with an ice cream cone. This traditional dessert is unbeatable because it is sweet, creamy, rich, and cooling. But how to make a real low-fat as well as low-sugar ice cream to avoid weight gain and some health problems? Here are some simple home-made ice cream recipes on offer:
Frozen Yoghurt
Make frozen yogurt at home as it is a kind of healthy and delicious ice cream. A little elbow grease is all that is required to continue churning the yogurt while it slowly freezes rather than an ice cream maker. You can choose to include pureed fruit, raw honey, vanilla extract, or any combination of these. An excellent substitute is to freeze fruit-flavored yogurt in molds.
"Chunky" Monkey Ice Cream
Without the "chunky" element, it's still healthy chunky monkey ice cream! With luscious chocolate, rich peanut butter, and naturally sweet bananas, this 5-ingredient ice cream is full of flavor and has a texture that is just as creamy and velvety smooth as store-bought ice cream. Oh, and it's also secretly healthy.
Ingredients:
1/4 cup Vanilla Almond Milk Without Sugar
1/2 teaspoon vanilla extract
2 tablespoons peanut flour
1 packet of Natural Sweetener (stevia, Truvia, etc.)
a dash of salt
a single giant banana, diced into "coins," frozen
1 teaspoon Mini chocolate chips
Instructions:
Almond milk, peanut flour, vanilla extract, sweetener, and salt should all be combined in a small bowl. The mixture should be poured into silicone ice cube molds and frozen solid.
For about 15 minutes, thaw the frozen banana chunks and peanut butter cubes.
With the exception of the chocolate chips, combine all the ingredients in a food processor. Process until thoroughly combined, scraping down the sides of the bowl as needed. Add the chocolate chips when it is smooth, and pulse just until they are broken up.
Serve alone or with a spoon and a splash of cinnamon, chopped peanuts, banana slices, or both! Enjoy.
Vanilla Bean Ice Cream
The most popular ice cream flavor is vanilla. No longer does regular vanilla ice cream have 350–600 calories per cup! This recipe for healthy homemade vanilla bean ice cream is flecked with real vanilla beans and is soft and creamy (without heavy cream), sweet and satisfying (without refined sugar and high-fructose corn syrup).
Ingredients:
1 cup of cottage cheese with low fat
1/4 tsp Vanilla Paste
1/2 tsp Stevia Extract
Instructions:
Mix the cottage cheese, stevia extract, and vanilla paste in a big bowl. The mixture should be spooned into silicone ice cube molds and frozen until set.
For about 20 minutes, thaw the frozen cubes.
Frozen cubes should be added to a food processor and processed until smooth, scraping down the bowl's sides as needed.
Serve with spoons alone, natural rainbow sprinkles, or little chocolate chips! Enjoy.
References: